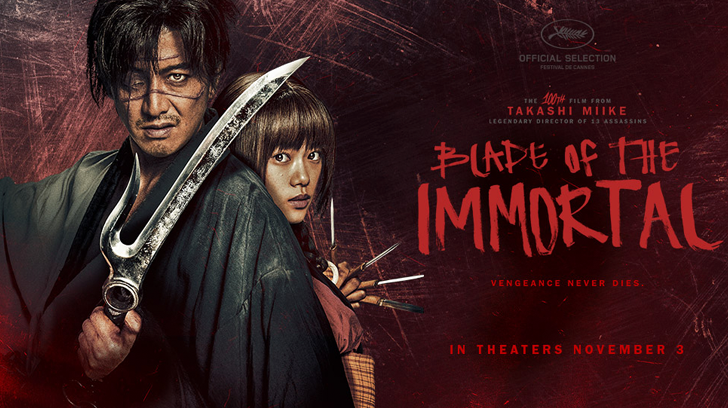 Magnet Releasing is giving Takashi Miike's (13 Assassins, Terra Formars) live-action movie adaptation of Hiroaki Samura's manga, Blade of the Immortal, a limited theatrical release on November 3rd.
This upcoming period samurai film stars Takuya Kimura (2046), Hana Sugisaki (Mozu: The Movie), Sota Fukushi (Library Wars), Hayato Ichihara (Yakuza Apocalypse), Erika Toda (Goemon), Ebizo Ichikawa (Hara-Kiri: Death of a Samurai), Tsutomu Yamazaki (As the Gods Will) and Min Tanaka (The Eternal Zero).
Samurai Manji has taken a lot of lives, both innocent and guilty, and now lives life in feudal Japan as a criminal. After being cursed with immortality until he kills enough evil men, Manji meets a young girl who enlists him to be her body-guard. Swearing loyalty, protection and vengeance against the group of sword fighters who slaughtered her family, the unlikely duo set on a remarkable quest to make right against those who did them wrong.
Don't miss film's New Red Band Trailer below: