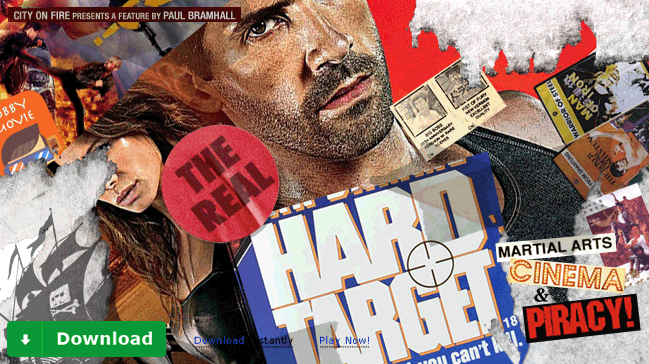 September 2016 saw the release of the Scott Adkins action vehicle Hard Target 2, a sequel to Hong Kong auteur John Woo's 1993 Hollywood debut. Just like any fan of action cinema, I was eager to check it out, and as a writer for cityonfire.com, I was just as much looking forward to giving the British stars latest leading role the review treatment. Writing for a website has its perks, one of which is often distributors are happy to provide screeners before a movies official release, be it via physical media or a secure download link. So, no doubt the same as many other fellow action cinema writers, I reached out to Universal Studios Home Entertainment to see if this was the case with Hard Target 2. Alas though, they weren't going the screener route with their latest release, so it turned out we'd have to wait for the official release on September 6th like everyone else.
I was quite surprised then, when reviews of the movie started turning up in August, both on forums and respectable sites that specialise in action cinema. Had cityonfire.com been singled out as not being worthy of receiving a screener, and received short thrift? As with most things in life, the simplest way to find the answer was to ask the question to those who were offering up their reviews – how had they seen it? Even more surprising than when I first spotted the reviews popping up here and there, was the overwhelmingly blasé answer from everyone that I asked the question to – they'd illegally downloaded it off torrent sites.
If any action stars movies are capable of generating discussion on piracy and its effect on the industry, then it has to be Scott Adkins. I've read several interviews with the affable star, as well as meeting him during the SENI Combat event in London back in 2014, and he's always very vocal and upfront about how piracy is effecting the industry and his own career. After Undisputed 3: Redemption was released in 2010, which saw his supporting character of Yuri Boyka from the previous instalment take center stage, he's been subjected to an almost never ending barrage of questions of when Boyka would be returning to the screen. It's worth noting that at the time of writing, the fourth instalment in the Undisputed franchise, simply entitled Boyka: Undisputed, has been completed, and is due for release in early 2017.
The following is an excerpt from a recent Reddit AMA (Ask Me Anything), featuring Scott Adkins and his fans.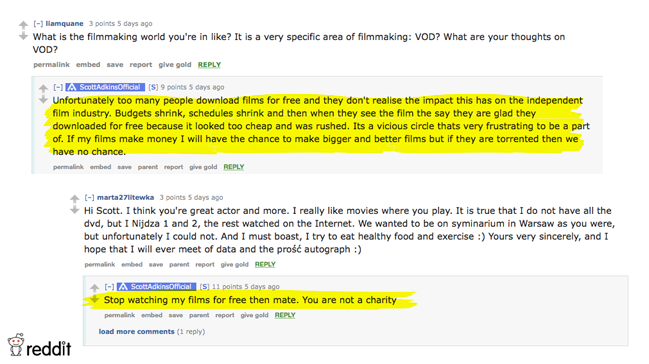 However every action star has a shelf life, we're all only human, and action filmmaking takes a remarkable physical toll (just ask Jackie Chan). So why is there a 7 year gap between the installments of what's considered to be Adkins' most iconic role? The answer is a straightforward one – Undisputed 3: Redemption was illegally downloaded so much, that its profit from legitimate sales was barely enough to scrape even. Producers don't back titles based on a star's output being overwhelmingly popular on illegal torrent sites, they back them based on knowing they'll get a return on their investment. Go onto any action movie site or forum, and you'll see nothing but praise for Undisputed 3: Redemption, but if you were to show a producer its profit as a sales pitch to make a fourth instalment, you'd be understandably laughed out of the room.
While I, just as everyone else, have high hopes for Boyka: Undisputed, there's already a trailer out there, and the production values are undeniably on the low end of the scale. Thankfully Adkins' talent is more than enough to overlook such issues, so let's hope that it delivers, because 7 years is a long time to wait. As recently as Adkins' last starring role in 2015's Close Range, during an interview to promote the movie he explained that the original vision was much grander in terms of action, however with only a small budget and tight filming schedule, they had to make the most of what was available. Why did they have to work in such a restrictive environment? Again it was a simple answer, the producers didn't want to invest too much, as they weren't confident they'd get much of a return.
Just like we're seeing with Hard Target 2, in the lead up to the release of Close Range reviews started to flood the net, many of which pointed to the somewhat rushed nature certain aspects of the production appeared to have. So we have a vicious cycle – we have a ready and willing action star who'll always give 110%, but who many feel doesn't get productions that are worthy of his talent, because of low budgets and restrictive filming schedules. Adkins' puts it out there that for him to have those bigger and better opportunities, his fans need to legitimately purchase his movies, and stop downloading them before they're released. His pleas seems to fall on deaf ears, and with the imminent release of a new movie, opinions start appearing on the net, often complaining of the apparent low budget and anything else they can gripe about. This pre-release negative feedback inevitably has an impact on the chances of increasing legitimate copies being shifted, and hence we end up back at square one.
I wish the above was conjecture on my part, but for a real time example, all you have to do is go onto Adkins' official Facebook page, and check out the hundreds of comments from before September 6th of so-called fans labelling Hard Target 2 as 'boring' or 'stupid'. Scroll just a mere few posts down, and you'll see a post from Adkins promoting the DVD and Blu-ray release, with a note from him requesting to support the legitimate release for all the hard work that was put into it.
So what's the deal? Is this issue of piracy one that spans across genres, or is it more specific to the martial arts genre? A great example to look at is the recently proposed Zinemaxploitation Blu-ray release of the Hwang Jang Lee and Mars vehicle, Lackey and the Lady Tiger. The release was limited to 200 copies at €20 each, and to make it happen they needed a minimum of 75 purchases, which they aimed to get between 9th August and 9th September 2016. Fans have been demanding Blu-ray's of kung fu classics for years, and Zinemaxploitation are making the bold move to step up and deliver what's being asked for. I was waiting for the announcement that the 200 copies had fully sold out, so that the campaign was closed, but instead, 2 days before the campaign ended they were still short of the minimum order of 75. Thankfully, due to several pledgers double dipping, it just scraped over the line.
Now, let's look at another niche genre, that of Italian horror. Earlier this year UK based distributor 88 Films launched a crowdfunding campaign on the Indiegogo platform, with the aim to restore 4 obscure Italian horror titles. They were looking for a minimum of £10,000 to restore one of them, and £40,000 would result in all 4 titles being restored and released. When the campaign wrapped up in June, they'd raised £83,155, which just to put it in perspective, is 808% of their original target, achieved through 1452 backers. Then we have kung fu cinema fans like myself and others reading this article, who can barely find 75 people to purchase a Blu-ray of a movie that features such legendary names as Hwang Jang Lee. It's kind of sad isn't it?
The 'got through by the skin of its teeth' nature of the Zinemaxploitation campaign saw a certain level of backlash from fans across social media platforms. In the days before the campaign ended, those who had pledged €20 seemed genuinely exasperated that the possibility of not reaching 75 purchases was a very real one, and in one post I read, labelled fans of kung fu cinema "a tight fisted bunch of idiots who want everything for free". Harsh, however it's hard to ascertain what else could possibly be the reason for such an appealing title to have struggled to reach a perfectly reasonable number of sales. Is it really the case that fans of kung fu cinema have come to expect everything for free?
I decided to research more into this, however ultimately I stopped delving into the matter too deeply, as it paints a depressing picture. Going back to the end of 2015, the Warner Brothers studio finally decided to unearth a movie which had been sitting in their vaults for a countless number of years, the Sammo Hung classic Pedicab Driver. Go on any forum relating to kung fu cinema, and it's possible to find threads dating back to the early 00's of posts making enquiries as to when this title would hit DVD. The fact is, it's never had a DVD release anywhere, not even in Hong Kong, so for it to be finally unleashed as part of the Warner Brothers Archives series was big news. At last, people could rejoice and throw away the poor quality bootleg copies that they'd been living with so long, and enjoy the movie in crystal clear clarity from a legitimate release.
One day after the release, a good friend of mine who is well known amongst kung fu cinema fan circles, e-mailed me to express his disbelief at how many requests he'd had from people, asking when he was going to upload the DVD that they knew he'd purchased onto a torrent site. Having purchased the title on the day it was released, in the hope that supporting it would result in Warner Brothers releasing more of the titles they have sitting in their vaults, the fact that so many were automatically assuming it'd be immediately up for free download, paints a grim picture. The short sightedness, and sheer volume of requests he'd received, is indicative of just how much kung fu cinema fans are their own biggest enemy. Yes it's possible to get everything for free, but it comes at a price that'll far exceed the $12 – $15 it costs to pick up the title legitimately.
So where does that leave us? It seems to boil down to one thing – as fans of martial arts and kung fu cinema, we have to be willing to put our money where our mouth is. We need to stop being our own worst enemy. It's not enough to keep on complaining that there's no more companies releasing kung fu movies on DVD or Blu-ray, but when companies like Terracotta Distribution and Zinemaxploitation put product out there hardly anyone buys them. It's not enough to complain that stars like Scott Adkins are appearing in movies that don't do their talents justice, but then ensure that the situation is never going to change by continuing to illegally download their movies before they're released. Movie piracy will always be there, and to some extent the large Hollywood studios can absorb the damage it does, however for a niche genre such as ours, where it's a struggle to even find 75 people to buy a Blu-ray, every illegal download of a new movie has an impact.