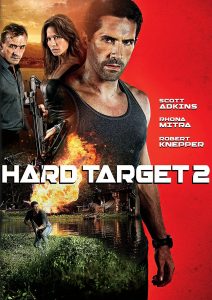 Director: Roel Reiné
Producer: Chris Lowenstein
Cast: Scott Adkins, Robert Knepper, Rhona Mitra, Tempera Morrison, Ann Truong, Adam Saunders, Jamie Timony, Pter Hardy, Sean Keenan, Troy Honeysett, JeeJa Yanin, Sahajak Boonthanakit, Patrick Kazu Tang, Thira Chutikul
Running Time: 104 min.
By Paul Bramhall
As a child of the early 80's I, and most likely many others, had my first exposure to John Woo from his 1993 Hollywood debut Hard Target. A tale which see's Jean Claude Van Damme on the run from a group of wealthy hunters, led by a menacing Lance Henriksen, despite Woo's own complaints about what he felt was a rushed production schedule, the final version still arguably delivers an action classic. I still remember being on holiday with my parents as a teenager, and picking up a double VHS pack which contained Hard Target (the 'Full Uncensored Version' no less) on one tape, and Timecop on the other. While Van Damme's time travelling action flick certainly entered the VHS player more than once, it was usually Hard Target which needed to be ejected first – simply put it lived in the player.
Timecop may have gotten a Van Damme-less sequel in 2003, with the Jason Scott Lee vehicle Timecop 2: The Berlin Decision, but Hard Target has had to wait a significantly longer time, with an equally Van Damme-less sequel being delivered in 2016. In place of the Muscles from Brussels, we have who many people consider to be his spiritual successor, British martial arts star Scott Adkins. Adkins has stated many times how much Van Damme was an influence on his career, and to date the pair have featured in four movies together, proving that in some cases, dreams do indeed come true. For the sequel, Adkins finds himself back in Myanmar, the country which also provided the stomping ground for his 2013 movie Ninja: Shadow of a Tear.
The story see Adkins playing an MMA fighter, who during a fight which pits him against one of his closest friends, sees him accidentally kill his opponent. To drown his sorrows, he ups and leaves the States to move to a ramshackle hut in Bangkok, in which he lives with a pet white dove (it's never clearly stated if it is his pet, but it's always hopping about in the hut somewhere), the digital watch his friend gifted him with before their fight, and plenty of alcohol. Adkins spends his time in Bangkok switching between American and British accents, drinking, and getting involved in a series of bare knuckle off the books fight tournaments. When a rich business man, played by Prison Break's Robert Knepper, offers him a million dollar pay cheque to take part in a final match in Myanmar, Adkins takes the bait, and the rest as they say, is history.
Replacing Woo in the director's chair for the sequel is Dutchman Roel Reiné, who's made almost an entire career out of making direct-to-video sequels to popular action movies. It's a long list – The Marine 2, Death Race 2, The Scorpion King 3: Battle for Redemption, Death Race 3: Inferno, 12 Rounds 2: Reloaded, Behind Enemy Lines: Seal Team 8, The Man with the Iron Fists 2, The Condemned 2, and of course, the move in question. For me though, he'll always be the guy that directed one of the better latter-era Steven Seagal movies, with 2008's Pistol Whipped. Reiné may be used to working in the lower budgeted direct-to-video arena, but one thing he's definitely not used to is directing a sequel to a John Woo movie. Who would be?
It's evident from the start that he wants to pay homage to Woo's original – from an opening that see's the human prey on the run from crossbow wielding hunters, to the inclusion of randomly placed doves, even to Knepper and his right hand man, played by Temuera Morrison, clearly being styled after Lance Henriksen and Arnold Vosloo. However there's never any doubt that we're watching a production which is never going to be in the same league as the original. Hard Target 2 is laden with a particularly awful script, full of painfully clichéd lines and equally embarrassing delivery of them, not helped by some poor ADR work that crops up here and there.
Reiné also takes a huge gamble by having Adkins first scene be an MMA fight in the ring. There's little doubt that the stars most iconic and popular role is that of Yuri Boyka, from the Undisputed series, and fans have been clamouring to see him back in action since 2010's Undisputed 3: Redemption. Any movie which puts Adkins in the ring is inevitably going to draw comparisons to his performances in the series, and here they're not going to be favourable ones. Instead of going for something original with the choreography, the match, and also his bare knuckle fights in Bangkok, feel like more of an Adkins show-reel from the past 10 years. There's no originality on display, and instead the action leans back on his trademark spinning jump kicks, all of which are shown in slow motion, while the person on the receiving end of them waits to be hit. It's a letdown.
Things do get a little more interesting once the action moves to the jungles of Myanmar (although the scenes are actually shot in Thailand). Knepper and Morrison lead 6 other hunters – a redneck father and his reluctant son, a big game hunter, a matador (who comes complete with sword), a first person shooter software developer (don't ask), and a spoilt rich girl with a sadistic streak, notably played by British actress Rhona Mitra, who refined her action chops in 2008's Doomsday. After narrowly escaping his first encounter with the hunters, Adkins happens upon one of the locals, played by Ann Truong, who becomes his guide through the dense jungle. Truong's wardrobe makes her appear as if she's just come from auditioning for the role of Pocahontas, but her character is a pleasant enough addition, and she soon has Adkins paying his respects to the "spirits of the forest" and ensuring her safety.
When it comes to the action, the vast majority of it consists of Adkins dodging arrows, being thrown into the air from explosions, and indulging in some fisticuffs. It's a somewhat surprising decision that two of the one-on-one fights during the hunt don't go to Adkins at all, instead giving us an all female showdown with Ann Truong vs. Rhona Mitra, and then later the actor who plays Truong's brother fights the matador. Both fights are completely unremarkable, and plagued by quick cutting to disguise the lack of screen fighting talent. However it's perhaps indicative that beyond the Adkins Greatest Hits book of moves, the choreographers really didn't have much up their sleeve for him to do. There is a face off which pits Adkins against Mitra mid-way through, however it's so stilted and one-sided that it leaves the memory almost as soon as it's over.
Proceedings build up to a finale which attempts to rectify this, as events culminate in a New One Armed Swordsman style stand off on a bridge, which pits Adkins against 5 of Knepper's fighters at once (two of which are played by Jija Yanin and Patrick Kazu Tang, clocking in about 30 seconds of screen-time between them), followed by Morrison, and then Knepper himself. It allows Adkins the chance to briefly let loose, in a face off which provides the most complex choreography of the movie, but there's an inescapable feeling that it was rushed. Some camera angles are taken from rather odd positions, and there are kicks on display which clearly don't connect, immediately taking you out of the action. It's enough to make you wish that Hard Target 2 had a bigger budget behind it, combined with more time to film, as there's a good action B-movie in there somewhere.
As it is though, the poor script and illogical plotting frequently see Reiné's sequel tripping up and landing on its face. A scene which perfectly summarises these problems sees Adkins sneak up on the software developer, who's secretly filming the other hunters. Adkins whispers to him that if he makes a sound, he'll shoot him, as it would alert the other hunters that they're there. However he then proceeds to playback the recording to check what it is, with the audio glaring out at normal volume, but somehow none of the hunters are able to hear it. It's a scene which blatantly doesn't make any sense, and with a little more care should have obviously been re-thought. But then again, they're making a sequel to a John Woo movie, perhaps the whole idea should have been re-thought.
Paul Bramhall's Rating: 5/10