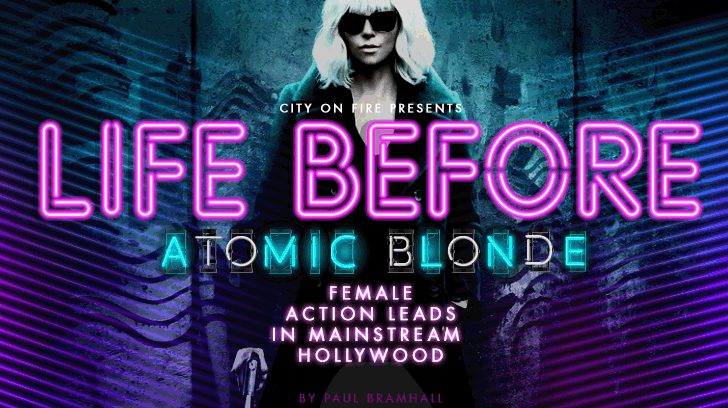 With the recent release of the Charlize Theron starring Atomic Blonde, a disproportionate amount of mainstream press coverage has revolved around how refreshing it is to finally see a Hollywood movie with a female action lead. Understandably, many Asian cinema fans have been quick to point out how Hong Kong has delivered more butt kicking female leads than you can shake a stick at, dating back to the beginnings of cinema itself. The same applies to the U.S. B-movie circuit, with the likes of Cynthia Rothrock, all the way up to present day femme fatales such as Amy Johnson and Zoe Bell, anchoring plenty of DTV action movies.
However lest we forget, the coverages generalised implication that mainstream Hollywood action movies lack female leads is in itself not entirely true. Sure, there's no female equivalent of Jason Statham, but then again, would we really want to see a female version of a gruff voiced Londoner with a receding hairline? Chances are no, but with a bit of thought it's easy to realise that you don't have to. Over the last 25 years there's been plenty of mainstream Hollywood action flicks that star a feminine force to be reckoned with, and with a disclaimer that we've not put a quality filter on this selection, COF has taken the liberty to highlight 15 of them.
The criteria is simple – it has to be a mainstream Hollywood action movie that got a theatrical release, which features a female lead. We'll be featuring each actress once only, so if they've been the lead in more than one action flick, we'll mention it in the text. So as not to muddy the waters, and also because there's 100 other sites out there that focus on this element of the genre, we won't be including any movies that are based on comic-book or video-game characters. Apologies in advance to the likes of Catwoman, Elektra, and the Resident Evil series. So, listed in the order of the year they were released, for those hankering for a big budget female action fix, check out our list below –
Everly (2014) – Salma Hayek
You don't get much more of a stripped down action movie than Salma Hayek holed up in her apartment, defending herself from an onslaught of yakuza assassins sent by her former mob boss.
While Hayek has done action before, most notably when she starred alongside Penelope Cruz in 2006's Bandidas, for pure visceral impact it's Everly that takes the cake.
With action sequences choreographed by Akihiro Noguchi, who previously worked on Black Belt and has an extensive history with Alpha Stunts, Hayek was certainly in good hands to deliver the pain.
---
Haywire (2011) – Gina Carano
Director Steven Soderbergh was so impressed by MMA fighter Gina Carano, that he decided to create a movie just for her. The result was Haywire, a kind of B-movie espionage thriller which just happens to have an A-list cast, and the undeniable physical presence of Carano herself anchoring everything.
Her mid-movie throwdown with Michael Fassbender, in which a whole hotel room gets completely trashed, is still one of the best fights of the last 10 years. Carano has since gone on to headline the DTV effort In the Blood, and has a memorable supporting role in Deadpool.
---
Hanna (2011) – Saoirse Ronan
Saoirse Ronan plays the title character of Hanna, a 16 year old girl with the strength, stamina, and skills to rival Jean Claude Van Damme's Universal Soldier. But she hasn't been genetically modified, instead being raised in the wilderness of Finland by her father, in order to become the perfect assassin. That she does, and soon puts her skills to the test in one of the more offbeat action movies of recent years.
Most recently Ronan played the titular Galway Girl in Ed Sheeran's song of the same name, go figure.
---
Salt (2010) – Angelina Jolie
If Haywire most closely represents the kind of choreographed action that Atomic Blonde strives for, then in terms of plot, it's Salt that most closely resembles David Leitch's latest effort.
Angelina Jolie has done action plenty of times before, from playing Tomb Raider Lara Croft twice, to prominent roles in the likes of Wanted, but it's Salt that gives her the opportunity to shine in a gritty espionage thriller as a framed CIA agent.
Much like many billed Atomic Blonde as the female John Wick, so at the time of its release Salt was widely labelled as the female Jason Bourne.
---
Blood: The Last Vampire (2009) – Jeon Ji-hyeon
Kiss of the Dragon director Chris Nahon did the unthinkable when he adapted the 2000 anime Blood: The Last Vampire into a live action movie – he cast an Asian for a character who's supposed to be Asian.
Korean star Jeon Ji-hyeon acquit herself well, debuting in a Hollywood movie as the lead, and displayed a keen talent for action.
Despite not sticking around in the U.S., Ji-hyeon continued as a force to be reckoned with in her native Korea, most recently as a sharp shooter in 2015's Assassination.
---
Doomsday (2008) – Rhona Mitra
Somewhere between being the Lara Croft model, and throwing down with Scott Adkins in Hard Target 2, Rhona Mitra struck an impressive figure as a stoic warrior in Neil Marshall's homage to post-apocalyptic movies like Mad Max and Escape from New York.
It may be a B-movie disguised as a blockbuster, but there can be no denying that she owns the screen when she's on it (which is frequently), in a performance which allows for plenty of blood soaked mayhem.
Mitra got her action licks in again the following year, when she played Sonja in Underworld: Rise of the Lycans.
---
The Brave One (2007) – Jodie Foster
For those still shaking their head at the recently released trailer for Eli Roth's Death Wish remake, the remedy could well be argued to come in the form of director Neil Jordan's The Brave One.
Casting Jodie Foster as a vengeance seeking widow after her husband is killed by thugs (and in a precursor to John Wick, also looking for her missing dog), The Brave One is notable for its protagonist's unapologetic approach to wiping the bad guys off the face of the planet. Effectively updating the vigilante genre without even knowing it, Foster's steely performance is a standout.
---
Domino (2005) – Keira Knightley
Hot on the heels of her turns in the first Pirates of the Caribbean movie and Love Actually, Keira Knightley took on a role that was unlike anything she'd done before, or indeed has done since, as the real life model turned bounty hunter Domino Harvey.
Directed by Tony Scott in his trademark frantic and flashy style, Harvey herself was frequently onset to act as a consultant (although she passed away before the movie's release).
While Domino received largely mixed reviews, Knightley more than holds her own against fellow bounty hunters Mickey Rourke and Edgar Ramirez.
---
Aeon Flux (2005) – Charlize Theron
Lest we forget that Atomic Blonde is not the first time Charlize Theron has headlined an action movie, when she played the title character in Karyn Kusama's 2005 adaption of the MTV animated series.
Theron's Aeon Flux is a skilled assassin set in a future dystopia, and despite the movies flaws, it provides ample opportunity to witness the South African born actress acquaint herself well with her fists and feet. Throw in a healthy dose of gunplay along with some neat sci-fi concepts, and Aeon Flux could well be appreciated more today than it was upon its release over 10 years ago.
---
Kill Bill (2003/4) – Uma Thurman
Undoubtedly Uma Thurman's most iconic role, the character of Beatrix Kiddo was discussed between her and director Quentin Tarantino as far back as 1994, when they were working together on Pulp Fiction.
Their discussions eventually came to fruition as a 2-part homage to the kung fu, karate, and chanbara movies Tarantino grew up with in the form of Kill Bill, as Thurman plays an assassin that was left for dead by her former boss and team.
Cue plenty of slicing and dicing, complete with Gordon Liu and Sonny Chiba thrown into the mix, and it's difficult to go wrong.
---
Underworld (2003) – Kate Beckinsale
When Kate Beckinsale first starred as vampire warrior Selene in 2003's Underworld, very much a Matrix influenced take on the battle between vampires and werewolves, I'm sure she had no idea that it'd spawn a total of (to date) 4 sequels.
As of 2016's Blood Wars the Underworld series is still going strong, and Beckinsale has been there to anchor them all, decked out in black leather as if it never went out of fashion.
If anything, the Underworld series proves that a feisty British femme fatale can easily outlast both tax evading vampire hunters and pasty white teenage vampires.
---
Charlie's Angels (2000) – Cameron Diaz, Drew Barrymore, and Lucy Liu
While both Charlie's Angels and its 2003 sequel rely just as much on its trio of leading ladies eye candy factor as they do on such things as plot and characterisation, it was one of the first Hollywood movies in the post-Matrix era to bring in a Hong Kong choreographer for the action.
In this case it came in the form of Yuen clan member Yuen Cheung-Yan, and just as his brother Yuen Woo-Ping did for The Matrix, the result is some competently performed and filmed action scenes. Notably made 2 years before The Bourne Identity would make it ok to shake the camera around like a madman.
---
G.I. Jane (1997) – Demi Moore
Demi Moore's leading lady status was already on the rocks in 1997, not least thanks to the previous year's lamentable Striptease, however G.I. Jane goes a long way to proving how committed she could be to a role.
Playing a senator who enrols herself to the U.S. Navy SEAL program, she undertakes a training regime so punishing that it rivals Gordon Liu's performance in 36th Chamber of Shaolin (yes, I said it, and she gets her head shaved too!)
While it didn't revive her career, it does make for a strong female led action flick, recommended for those who like more grit and less flair.
---
The Long Kiss Goodnight (1996) – Geena Davis
Long before the 'skilled killer with memory loss' plot device became a well-worn trope, with the likes of the Bourne movies (and most recently Headshot), in 1996 Geena Davis showed everyone how it was done.
Made at a time when Renny Harlin still knew how to put a decent action movie together, it's a joy to watch Davis's small town schoolteacher leap off the top of buildings while unloading a machine gun, and all manner of implausible action antics, as her memory gradually comes back.
With her dyed blonde hair, it could well be said that this is the original Atomic Blonde.
---
Point of No Return (1993) – Bridget Fonda
Luc Besson's La Femme Nikita has been remade twice in the U.S. Most recently as the Maggie Q starring TV series, but perhaps most well known as the 1993 movie Point of No Return, which cast Bridget Fonda as the violent drug addict cum government trained assassin originally played by Anne Parillaud.
While critics were split over the remake, one point that all agreed on was that Fonda's performance was a standout, as she shoots and maims her way through a particularly bloody plot. Plus, there's training sequences, which make it obligatory viewing for most fans of this type of flick.
I'm sure if we stretched even further back in time there'd be plenty more examples of female-centric action flicks, and with the onslaught of Atomic Blonde-alikes that Hollywood appears to be lining up, they're not going to be in short supply any time soon. But for every one of them that results in an article declaring "Finally Hollywood gives us a female action lead!", we should remember the ladies mentioned above did it first, and in most cases, did it in style.