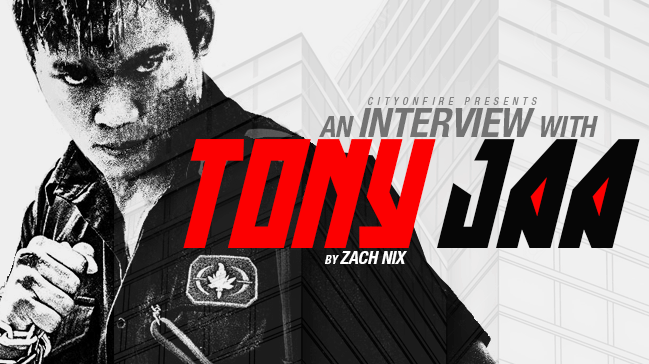 I recently had the pleasure to conduct an interview with Tony Jaa (Ong Bak, Skin Trade), one of the stars of the upcoming Kill Zone 2 (also known as SPL II: A Time for Consequences), which in and of itself is a spiritual sequel to 2005's modern martial arts classic, Kill Zone (SPL). As someone who has seen the film, I can't say enough good things about it, as it is one of the best Hong Kong productions in years. It even matches the artistic highs of Infernal Affairs and the original SPL. Therefore, it was a great opportunity to lob some questions at Tony in order to learn more about the film as well as his experience making it. We also discussed his breakout hit Ong Bak, and the upcoming blockbuster sequel, XXX: The Return of Xander Cage.
---
ZACH NIX: Many critics and fans of martial arts cinema state that the original SPL (Kill Zone) was a response from Hong Kong cinema to Ong Bak's breakout success in 2003. How does it feel to finally come full circle and star in the spiritual sequel to the film that was more or less a response to your breakout hit?
TONY JAA: The original SPL was great, I think it was an original expression of action and martial arts. With the quality of the cast, I don't think it was a reaction to Ong Bak, I think it was unique in its own right.
ZN: Did you feel that there were any expectations or challenges that came with tackling the follow up to SPL?
TJ: Any time you follow in the foot-steps of a really good movie the pressure is there to live up to the standards already in place.
ZN: Through the usage of a cell phone app, your character, Chatchai, is able to over come the language barrier that prevents you from communicating as easily with other characters in the film. Was there a similar language barrier in real life on the set at all, and were you able to communicate easily with your co-stars Max Zhang and Wu Jing?
TJ: I speak English fairly well these days, as does Max. Wu Jing is still brushing up on his English, but can express himself rather well. Whatever might have been missing vocabulary was made up for in camaraderie.
ZN: Kill Zone 2 gives martial arts fans several dream match ups to drool over. How was it filming the several fight scenes that you have against Wu Jing, as well as the final three-way fight with Max Zhang?
TJ: We are all very friendly, so frankly we had a lot of fun on set. During breaks from shooting we hung out together and had a lot of laughs.
ZN: Now that you have Kill Zone 2 under your belt, could you see yourself participating in any more Hong Kong productions?
TJ: For me it is always about the story and whom I am working with. I am very open to another Hong Kong production.
ZN: With the release of last year's Skin Trade and Furious 7, as well as next year's XXX: The Return of Xander Cage, you have made quite a transition in to English language productions. How has it been moving from Thai martial arts films to big budget Hollywood productions?
TJ: I enjoyed these films and the people I worked with. I made a number of new friends who I continue to stay in regular contact with. The Hollywood budget gives a lot of flexibility in how a film is shot. I still enjoy Thai martial arts, so I hope to find a center point between both places.
ZN: You are currently filming XXX: The Return of Xander Cage with its titular star Vin Diesel, but also Donnie Yen, who was the star and orchestrator of SPL. I have to ask, since you and Donnie are two of martial arts cinemas most beloved performers. Do you two fight or thrown down with one another in the film?
TJ: You will have to watch the movie.
ZN: As a fan of action films myself, I was curious if you have any favorite action or martial arts films that you like to watch?
TJ: I really think that Enter the Dragon is unique.
ZN: I interviewed Scott Adkins (read the interview) last year, and asked him whom he would love to work with in the future. He mentioned you first, and stated he would love to develop a project with the two of you. Would you like to work with Scott as well, and have you two talked about any sort of future collaboration?
TJ: We are friends, and Scott is nothing short of amazing. I would always welcome a chance to work together.
ZN: On a final note, do you have any career goals or aspirations at the moment?
TJ: Keep doing what I am doing. Thanks for the interview Zach. Best Wishes, Jaa…
I'd like to thank Tony Jaa, Well Go USA, and Alexandra Drapac for making this interview happen. Kill Zone 2 can be seen in U.S. theaters, or on V.O.D., starting May 13th. It will also be released on Blu-ray and DVD come July 16th.