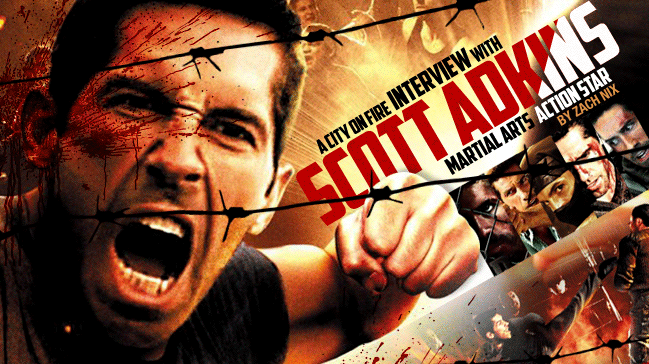 Cityonfire.com presents an interview with Scott Adkins, the mega-talented star and martial artist from Undisputed 2-3, Assassination Games, Universal Soldier: Day of Reckoning and Wolf Warrior.
In this exclusive interview, Adkins talks about his newest film, Close Range, as well as his upcoming projects, Boyka: Undisputed and Hard Target 2 – plus much, much more. Enjoy!
---
ZACH NIX: You have worked with Isaac Florentine several times before and arguably helped establish the direct to video/low budget action market as a force to be reckoned with. How was it working with Isaac again on your latest film, Close Range, and can you speak about your working relationship?
SCOTT ADKINS: It's always a pleasure, and he's a great friend of mine. He's my uncle in a way. He gave me my start in Hollywood, and I am forever grateful for that. He gave me my first breakout success with Undisputed II. He likes to work with me because he's a martial artist and he appreciates that I have a very strong work ethic and that I put as much effort in as I can to get down the action as quickly and efficiently. It's not easy and you get a lot of injuries.
For me, he always knows how to shoot the action. Some films I've made, and I get very frustrated, because some people don't understand how to shoot the action. And it's so crushing for me. With him I don't have that problem because I know he knows how to shoot the action. And if we've landed a good script and we get the action right, that's when we get stuff like Undisputed.
ZN: One of the pleasures of watching the action movies that you and Florentine conjure up is being able to visually understand all of the information and the action within the screen. Is it always the goal with you guys to make the action as clear as possible when you shoot it?
SA: Well, listen, when they shake the camera and they do the close ups and they edit too much, the only reason they started doing that was to hide the short comings of the performer like… I don't want to mention any names. You know what I'm talking about.
We're at this stage now where the shaky cam has become the new way to do it, and they'll even do it, even if the performance of the performer is good, to a good martial artist they'll still do the shaky cam because it's become this style. What we want to do, we want to show the beauty of the fight sequence. If it looks good in camera, it looks good in camera! You don't need to do these quick edits. The stunt performers don't have a choice because they [filmmakers] can't show the stunt doubles.
ZN: Close Range opens with an action sequence where you take down several members of a drug cartel in order to rescue your niece. The set piece also appears to be filmed in a sole tracking shot. Was it filmed in a single shot and did it take awhile to rehearse?
SA: Yeah that was a single shot. It is one continuous take. We rehearsed it before we shot the movie with the guys we were gonna use in the sequence because they've gotta be on point.
You know it's a hard situation when you're one of those stunt guys, you don't wanna be the one who forgets your move, especially if I've just done a minute and a half of one take and than you forget a move, imagine how bad you would feel? I mean I'm the lead, but it's a hard situation for those stunt guys, and they did a great job.
ZN: It's clear that Close Range is a contemporary Western with its desert ranch setting, plentiful cowboy hats, and ranch face/off. Are you or Florentine big fans of the Western genre at all, and did you two pull from any specific Westerns when developing the film?
SA: I am a huge fan of Sergio Leone and his Westerns. There's probably more cowboy hats than we should be using. We didn't have a lot of real Mexicans, so we just put a cowboy hat on them and said, "Hey, it's a Mexican." We've got some questionable Mexican faces in there. We wanted the best stunt performers. In all of his [Florentine] films you can see the influence of Sergio Leone. Especially in the music.
ZN: You recently completed principal photography on Hard Target 2, an upcoming sequel to John Woo and Jean-Claude Van Damme's classic film, Hard Target. How was it shooting that film and following in the footsteps of Van Damme by taking over another franchise of his?
SA: You know, when I was initially offered it, I said, no I can't do this again. People will think that I am actively pursuing Van Damme films or they might think that I am some twisted super fan of Van Damme that when I was a kid I made it my life's work to become an action star just so I could make sequels to Van Damme movies. But no, that's not the case. When they offered it to me, I said should I do this? I've already done so much linked to Van Damme. But the truth is I was such a huge fan of Van Damme growing up and he was such a huge influence on me that actually in my mind, and only I can know how this feels, it just felt right. I feel like if anyone's gonna do it, why not me because I was so influenced by Van Damme as a kid that if anyone's gonna do it, and when you see the film and you see what type of character I play and what the story is, you'll realize that actually there's no one better suited for this part than me. And people keep comparing me to Van Damme and I've worked with him a couple times before, and it's coincidental really, but I don't know, if you wanna get somebody for the sequel, who else are you gonna get?
ZN: You have faced off against several action stars in your cinematic career. These include Wu Jing, Jean-Claude Van Damme, Dolph Lundgren, Jason Statham, and several others. Is there any actor or opponent that you would like to face off against or work with in a film of yours that you have not challenged yet?
SA: Of course I would love to work with Tony Jaa. I would love to work with him, but on an equal setting, it would be me and him starring in a movie, like how it was me and Van Damme in Assassination Games. And of course I would love to work with Donnie Yen. But mostly with Tony Jaa, me and him, I would dearly love that. Tony would love to do it as well.
ZN: Now that you and Florentine have released Close Range, it seems that Boyka: Undisputed IV is the next collaboration between you two on the release schedule. Do you two have any other collaborations coming up after Boyka, and do you hope to continue making films with Florentine?
SA: Yeah I'll continue making films with Florentine, he's the best at what he does. People are gonna be in for a real treat when Boyka: Undisputed comes out.
Thanks again to Scott Adkins, Camelia Adibi at Katrina Wan PR and our very own Zach Nix for making this interview happen. Close Range is currently available on iTunes and will be hitting Blu-ray and DVD on January 5th. Don't miss it!