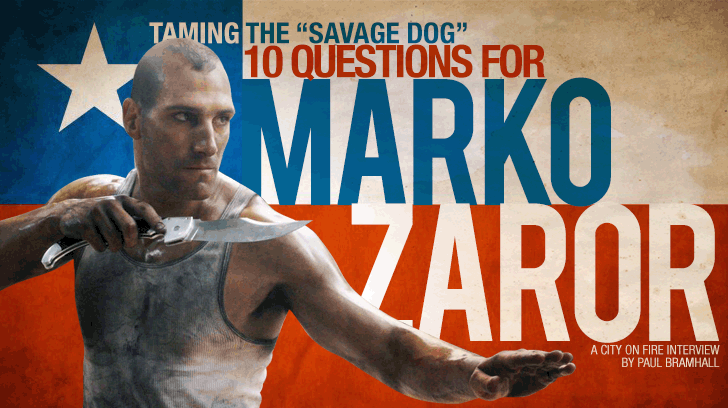 With the upcoming theatrical and VOD release of Savage Dog in August, at COF we were given the opportunity to provide the Dragon from Chile – Marko Zaror – 10 questions about his experience working on the movie.
Since initially beginning in the industry as a stunt double for the Rock in 2003's The Rundown, Zaror really got action fans attention when he headlined the martial arts actioner Kiltro in 2006. Made in his native Chile, the pairing with director Ernesto Espinoza would prove to be one that's built to last, as they'd go onto make Mirageman, Mandrill, and Redeemer together.
Zaror has several productions in the pipeline which he's set to appear in, but for now, all eyes are on Savage Dog, helmed by stuntman turned director Jesse V. Johnson.  Without further ado, check out his thoughts below –
---
Question #1: Savage Dog provides a re-match between you and Scott Adkins, after going head to head in Undisputed III: Redemption from 2010, what was it like working together again 7 years later?
Marko Zaror: It was great, as we always wanted to work together again after Undisputed III: Redemption, and the cool thing about Savage Dog is that because it's a totally different type of movie, we were able to create and play with different techniques.
#2: For those who say they've already seen both you and Adkins fight each other before, what would you say are the main differences, and what do people have to look forward to, from your pairing in Savage Dog?
MZ: Savage Dog is a much more realistic type of movie, and also a movie that is set in a different era, so this gave us the challenge to do a totally different type of fighting style. Also my character uses a knife, so this was already a big element that made us co-create a fight scene that feels really different to what audiences have seen before.
#3: Jesse V. Johnson is also a stuntman on top of being a director and writer, how would you say that influences his directing style in terms of you also being a physical performer?
MZ: Because of the fact he's also a stuntman, he truly understands the time that's needed to be able to accomplish a good action scene. Also in regards to the camera work and stunts, he is able to be really specific about what he wants, and if he feels like he needs to show how he envisions a stunt to look like, for example hitting the ground a certain way, he will just show you by doing it himself!
#4: In your collaborations with director Ernesto Espinoza, you usually choreograph the fight scenes yourself. What are the main differences from your perspective, between doing your own fight choreography, and taking direction from another fight choreographer?
MZ: In Savage Dog Jesse wanted me to come up with ideas and apply the techniques that I wanted to use for the character. In that regard I've been lucky to work with really good choreographers that let me give my input on the vision and ideas for the scenes.
#5: Were you or Scott Adkins able to incorporate any of your own ideas into the fight you have in Savage Dog, and if so what?
MZ: Went I was doing research for my character I really liked the French style of Savate, so I studies a lot of Savate footage in order to understand how the character will fight and movie. When I told Jesse, he really like the idea and we went for it!
#6: The last time you worked with Espinoza was on 2014's Redeemer, do you have any plans to work together again in the near future?
MZ: Yes, we are always working on ideas, and actually there is a good chance we be making a movie together soon.
#7: You've now worked in the U.S., India, and of course your home country of Chile. What for you are some of the biggest differences between the industries, and what are some of the learnings you've taken from each one?
MZ: Working in Chile is always a challenge, because everything that we have done with Ernesto is the first time it's done over there. So basically we have to be really creative to accomplish what we want, and I have to be really involved in all the processes of the movie, from pre-production all the way through to post.
In my work in the U.S.A. and India, I've been a part of big productions were my only role is to be my character, so there is a big difference. But in terms of movie making, I believe it's a universal language that once you are on a set, no matter what the language or which place you're in, the logistics and methods are similar.
#8: Who are your biggest influences as a martial artist?
MZ: Bruce Lee and Jackie Chan.
#9: If you could have a screen-fight with any action movie star, dead or alive, who would it be and why?
MZ: Bruce Lee for sure! But if we're talking about those who are alive, it will have to be Donnie Yen.
#10: What can we look forward to next from Marko Zaror, and is there any release date locked in for The Green Ghost?
MZ: No release date yet for The Green Ghost, but I'm guessing this year. Also I'm looking forward to The Defenders which will air next month, were I have an appearance in one episode. But what I'm really excited about is for the Robert Rodriguez movie Alita: Battle Angel, that will premiere next year!
Thanks again to Marko Zaror, Paul Bramhall, and the entire gang at Katrina Wan PR for getting this interview together.