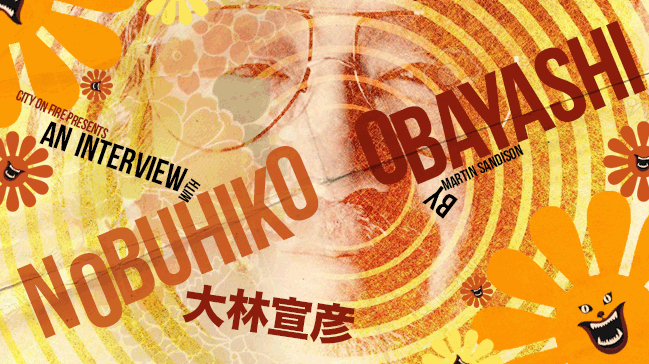 Nobuhiko Obayashi's film House is rightfully regarded as one of the craziest and most singular films ever made, and I would say no other movie comes close to its beyond-surreal vision. Obayashi's debut, made in 1977, would kickstart a career of eccentric, hilarious and visually wild films.
Obayashi was present at the Udine Far East Film Festival where they screened four of his films: House, Exchange Students, School in the Crosshairs and The Girl Who Leapt Through Time. I managed to secure a short, one-on-one interview with him, which was a joy from start to finish. Enjoy!
---
MARTIN SANDISON: You began your career in commercials and directed hundreds of them. So how did you begin your career in the film Industry?
NOBUHIKO OBAYASHI: My initial career in cinema began when I was three years old, with the tools that I found in my house. I studied how to make films myself. When I was a teenager I started to make some short films, in 8 or 16mm. So I became famous as a film artist. At that time In the United States, the underground movement happened. I became very friendly with the underground filmmakers. And then at that time in Japan, commercials were a way to start, and a producer came to me and asked me to make some TV commercials.
MS: To move on to your first film, House, the visual style you created is so interesting, and it is your signature movie. What inspired you to come up with this style?
NO: I have to say that House was the first work done by an Indie director, but doing a major film. So I thought that my work with House should be done the way other major films weren't being done. Major films, as you know, want to have success, have a hit film. I personally have a vision, and I watched a lot of films from the beginning of cinema, even from Tomas Edison. Every critic said after seeing House that it was not a real film. Now, I think actually it was a very classical film. For this reason, for the title, I put The Movie: House! (laughter)
MS: Could you talk a little about the editing style of House? Because when I saw it I thought, "Wow! It's so unusual!" I've never seen anything like this.
NO: For me, it was so natural, not unusual.
MS: Okay. Could you talk about the music in your films? You studied music. How important is it to the effect of your films; and who are your musical influences?
NO: Both music and film are the arts of time. The seven actresses of House were all unprofessional. So it was difficult to let them know how to play with words. So in that case I created the music before making the film. And during the film I played the music all the time so they could get involved. So listening to the music from major to minor, the girls in the film would act happy when it was major and sad when it was minor. To edit the scenes using the music was more effective than using only the words.
MS: It has been some time since you made a horror film, would you make another one?
NO: I don't like zombie horror films. I don't like the fast paced music in them. Film should be beautiful.
MS: Do you like contemporary Japanese cinema?
NO: Yes. I find it very interesting. I find the films made by young Japanese directors very interesting, like the films in this festival. They reflect real Japanese society. The history of film is only 120 years, so it is possible to see all the films created, and I would like to say to the young producers to see all of them. With their talent after studying the history of film they would be able to create more and more interesting films. Without knowing the music of Beethoven for example, musicians would not be able to create rock music.
MS: Which are your favourite Japanese directors?
NO: All of them! Especially Ozu. He remains mysterious.
MS: Do you have a favourite Ozu film?
NO: Late Spring.
MS: Yes, I know it. To talk about your influences again, are you influenced by the early surrealist films, like the films of Luis Bunuel?
NO: Yes I like those films, but the most surrealistic director is Ozu.
MS: Interesting! Do you have a project you are working on now?
NO: Yes, I have a project to start in the autumn.
MS: And could you tell me about the project, or is it secret? (laughter)
NO: Nothing secret! But I don't know what it will be! (laughter)
NO: It's not interesting to do something I have done before. It is not me who creates the film, but the film creates me.
MS: Arigatou!
NO: Thanks very much! (in English)
Thanks again to Martin Sandison, Nobuhiko Obayashi and the great staff at the Udine Far East Film Festival. Vintage set photos courtesy of Ob's House.