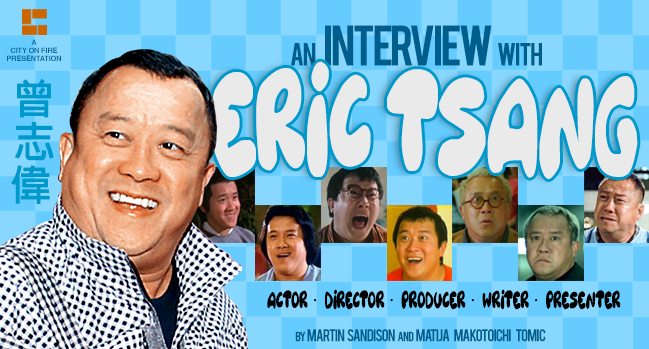 On the back of the great success of his wonderful and moving new film, Mad World, Eric Tsang appeared at the 19th Far East Film Festival in Udine. Prior to the screening he was presented with the Golden Mulberrry Lifetime Achievement Award, a fitting tribute to one of Hong Kong's great filmmakers. Alongside such memorable roles as Hon Sam in Infernal Affairs, Tsang has worked as a director, producer, presenter and screenwriter throughout The Golden Age of Hong Kong cinema. Some of my favourite films he has worked on are: Enter the fat Dragon, Aces Go Places, The Loot and Armour of God. We were lucky enough to secure a short interview with him, wherein he was as affable, funny and charming as I thought he would be. Here it is…
---
Martin Sandison: Hi, I'm Martin from City on Fire.
Matija Makotoichi Tomic: I'm Matija, also from City on Fire.
Eric Tsang: Hi! Nice to meet you!
MS: The first question is about Mad World. I saw the movie last night, I love it (read Martin's review). It's my favourite movie of the festival. I was wondering how you approached the subject matter, and how you got the role and prepared for it?
ET: I appreciate very much that you enjoyed the movie. So first of all, you know my personality: I'm a happy, go lucky person. I always want to amuse the audience and make something pleasant and entertaining, that is my style. So at first, I wouldn't have considered this role. But I have known the director Wong Chung from before and I have worked with him collaborating on a short film. I really like his work, it is very solid and good. So we talked about having another collaboration for a while. So he told me "Yes, I have another project that I've been writing and working on this for more than two years, and I want to approach you you for it. I have written a character in the movie that is most suitable for you. Would you consider it?" At first I thought, my God this is such a heavy story, I really don't want to take it! But I shouldn't refuse it without even reading the script. So I took the script back and read it, and thought it was a very good script, so I ended up taking the role and making the movie.
I always support and nurture new directors, and one thing I always do is help them find funding for their movies, and find better stronger costars. So I understood with this particular project they already had funding from a special award, which was HK $2 Million dollars. But this is not a lot of money, so it would be hard to find superstars to be in the movie. I didn't want the filmmakers script to be spoiled by amateur or inexperienced actors. Because a good actor can enhance the outcome. So I found Shawn Yue, and convinced Shawn to make the movie. We did the movie pro bono, so this was a big support for the director. Even Elaine Jin who played the mum worked pro bono. So all three main actors made the movie for free.
MS: That's great.
ET: Yeah because $2 million is nothing.
MS: And the movie has been so successful.
ET: Yes, everybody is very happy with this outcome. The movie has come out in Hong Kong, and is getting good box office. In almost every film festival we have had recognition and awards.
MT: I wanted to ask about your beginning as a director. So the first two movies you directed (The Challenger and The Loot) were kung fu movies. How did it come about that you directed the two movies? And can you tell us anything about the shoot of them, anything interesting?
ET: First of all if you know my career, I started off as a stuntman. So if you ask me why I chose the kung fu movie genre to make my first movie, that's because it's what I knew at that point in my life and career. It's everything I've learned as a stuntman. Maybe not as a director, but I had a lot of knowledge and experience I wanted to share. That's the same experience for any new director. When you first start with your first project, it is your most passionate project. Its something you have held close in your heart for a long, long time. So we all share that. Another thing is if you know me personality wise, I always like humour, comedy. So kung fu comedy became my first style, and set my tone of film making.
MT: In those movies one of the actors was Phillip Ko Fei.
ET: Ko Fei? Yes.
MT: He recently passed. Could you say something about him? Were you good friends, even after making those films?
ET: First of all, the fact that you mentioned Ko Fei means you really follow Hong Kong cinema closely. We were good friends, a long time ago. One thing I always thought was that Ko Fei always had this high energy level, he was also tireless. His energy level was so strong that he actually drives everybody on the set and made everybody work very hard. Because even when we shot those movies and it was so hot in Hong Kong, so humid. So the minute the actors put on the costumes they were sweated through. So it was a very, very tough environment, and yet Ko Fei didn't complain and worked very hard. Besides all that, he was the best action actor. So I was very happy to work with him, and Ko Fei was in both movies. Our friendship continued, because as you may know I was a professional soccer player, before I worked in the entertainment business! Ko Fei was also a soccer player, and we were both key members of the star soccer team with all the stars! (laughter) We continued playing soccer, outside of being colleagues.
MS: I wanted to ask you about Infernal Affairs. The movie is obviously one of the best Hong Kong films ever made, everyone agrees it's a masterpiece. Could you share some memories of the shoot, and how you approached the character?
ET: First of all, I myself love that movie. It's one of the movie projects I have made that will be in my memory forever, I will never forget it. I was very honoured to be part of the project. Even though I've made a lot of movies to be in such a serious production and costarring with all of these very strong drama actors like Tony Leung, Andy Lau and Anthony Wong, going to the set every day was like the beginning of a new battle. I was combating with all of these strong actors. We pushed each other, especially when you work with costars who are so strong.
The director Andrew Lau when he came on set on the first day, he said very seriously this is how I want to do this and that. The minute he finished talking, Andy Lau has an idea, Tony Leung has an idea, Anthony Wong also had an idea! Everybody including me! (laughter) In the end, Andrew Lau said "ok you all demonstrate." So we did a master shot of everybody demonstrating, and in the end it was the best outcome. So since then I have changed my style of directing, it's become more collaborative. Everybody will come up with an idea and then we start shooting, then we will reach a consensus.
I'll share a memory from Infernal Affairs. When I was in the Police station, I had a lunch box. In that particular scene, it was my idea how to shoot it. I brought my own lunchbox to work that day, and on the set I showed Andrew Lau the lunchbox, and he said "Ok, let's shoot it!" (laughter)
MS: Ok, thank you very much!
MT: Thanks!
ET: Thank you!
MS: Could I get a quick picture, and could you sign this? (I take out my Infernal Affairs DVD cover)
ET: Wow! Of course.
Thanks again to Martin Sandison, Matija Tomic, Eric Tsang and Sophia Wong Boccio for translating.