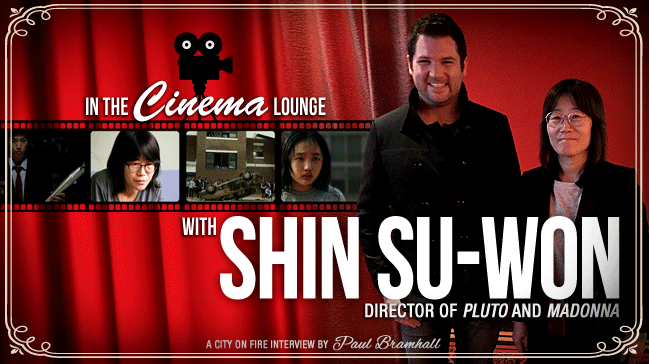 In a man's world, director Shin Su-won has created a distinct voice for herself within the Korean film industry, and by all accounts her latest movie, Madonna, should further establish her name as a considerable talent on a global level. Madonna was chosen to premiere in Australia as part of the 2015 Korean Film Festival, and Su-won, with producer Lim Chung-geun, flew in to attend the screening.
This year isn't the first time the pair have attended the festival, as in 2013 they also made the trip down under to premiere both her 2nd full length feature, Pluto, and her short film, Circle Line. Back then, through a series of random events (it's all covered here) I'd ended up knocking back pints of Guinness in an Irish pub with Su-won and Chung-geun, along with the actress from Pluto, Kim Kko-bbi, so it was good to see them return a couple of years on.
Su-won took an unusual path into the world of film, having begun her working life as a school teacher, which she remained as for 10 years. After writing a couple of books, she decided to change her career and become a novelist, enrolling at the Korea National University of Arts. Instead of becoming a novelist though, while studying she gradually fell in love with the medium of film, and changed her major to screenwriting.
At the age of 34 she quit her teaching position, and decided to become a film director. No easy feat in such a competitive industry. Using ₩25 million from her own pension, in 2007 she set upon working on her feature length debut, which came to fruition in 2010 with the release of Passerby #3, the story of a thirty-something woman trying to break into the film industry, derived from her own experiences.
Interestingly, just like director Kim Sung-ho (read my interview with him) who was also in attendance at this years festival, Su-won was approached by the Korean government to direct a segment for the 2012 omnibus movie Fighting! Family. The government commissioned production was created to draw the population's attention to Korea's low birthrate, with the end goal of encouraging people to, well, reproduce more. Su-won wrote and directed Circle Line, the rather dark tale of a recently laid off man who aimlessly travels the city train loop, and upon submitting her piece it was flatly refused to be included. Undeterred, Su-won took the short to Cannes, where it won the Canal+ Prize for best short film, and ultimately was included as part of the omnibus feature Modern Family.
Su-won is certainly no stranger to the festival scene. Her debut Passerby #3 won the JJ-Star Award at the 11th Jeonju International Film Festival, and the Best Asian-Middle Eastern Film award at the 23rd Tokyo International Film Festival. Her sophomore feature Pluto premiered at the 17th Busan International Film Festival, and Shin received a special mention at the Generation 14plus Section of the 63rd Berlin International Film Festival. And now her latest, Madonna, was invited to screen in the Un Certain Regard section of the 68th Cannes Film Festival. For a director with only 3 full length features under her belt, that's a lot of attention from the global circuit, and it's rightly deserved.
Madonna tells the tale of a nurse assistant, played by Seo Yeong-hee, working in an exclusive hospital for the wealthy. When the son of an elderly comatose patient, who happens to be one of the hospitals benefactors, discovers that his father needs a new heart, he becomes determined to use a brain dead Jane Doe for the transplant, and approaches Yeong-hee to find her family. As Yeong-hee begins delving into the past of the mysterious patient, played by newcomer Kwon So-hyeon and nicknamed Madonna, she unfurls a tragic tale of a struggling young woman, and the many difficulties that she faced in life.
Su-won was in serious demand during her brief visit to Sydney, but I was lucky enough to sit down with her for 20 minutes before the screening of the movie, to catch up and do my own delving into her career so far.
Paul Bramhall: Director Shin, welcome back to Sydney. I'll get the most important question out of the way first, do you remember when you were here a couple of years ago and we ended up drinking together after the movie forum?
Shin Su-won: Ah yes, I remember you! We drank together with producer Lim and Kim Kko-bbi, it's good to see you again.
PB: Likewise, now I wanted to ask you about your movies so far.  Passerby #3 focused on a struggling mother, Pluto focused on a struggling student, and Madonna focuses on a struggling young woman. Are the struggles of the less fortunate in Korean society something you find particularly interesting to create stories from?
SSW: Well I guess there are two types of filmmakers, there are the filmmakers who like to focus on the positive side of life and work with happy characters, but for me I find it more interesting to focus on those who are less fortunate and have somewhat troubled lives, as these types of character allow me to create more meaningful films.
PB: I see, and with the title of Madonna it obviously brings to mind the image of Mary with the baby Jesus. Of course in 2012 Kim Ki-duk made Pieta, which likewise brings to mind the image of Mary, but she's with the dead body of Jesus. Is this comparative religious aspect of your movie something you thought people would read into?
SSW: Yes, now that you bring it up it is interesting. I remember the ending of Pieta was very good, and director Kim Ki-duk constructed a very masterful scene, but I would say my movie definitely has a different theme to Pieta. For me the biggest difference with Madonna is that it focuses on the relationship between two women, and I think people will realize this when they watch it.
In my film it's about an assistant nurse, the main character, who is trying to uncover the past of the comatose patient, Madonna. Then through this journey it begins her healing process, even though she's a character who's clearly in the lowest tier of society, what she discovers allows her to find her own meaning in life. In that sense it's very different to Pieta, as even though the son is also trying to discover his mothers past and where she's been, the focus on the son and mother dynamic makes it very different from the relationship in my film.
PB: Madonna stars Seo Young-hee, who is no stranger to playing female leads and had a memorable role in Bedevilled, but Kwon So-hyeon on the other hand has never acted before. Was it tricky to find the balance between such an experienced actress, and someone who has had no experience at all?
SSW: Hmm, Seo Young-hee was obviously very experienced, but in films she's starred in such as The Chaser and Bedevilled, her roles required her to really overact and be very dramatic, whereas in my film she had to express herself in a very realistic and emotional way, with many subtle expressions. So in that sense she had a difficult time trying to adjust to this new form of acting that was required of the character. In a way it was also like Seo Young-hee was a first time actor, due to the nature of the role.
On the other hand Kwon So-hyeon was in a role that required some very dramatic and intense acting, kind of like how Seo Young-hee was in Bedevilled. So there were some very hard scenes for her, as an example there's the scene were she is sexually assaulted, and we filmed it in one single take. But she had a real passion about her role, and was very passionate about her acting, so with it being her very first time she really tried harder than I believe many other actresses would. I worked with her for one month before we started shooting, to make sure she was well prepared for the role.
In the film both actresses don't really meet as such, so this allowed me to find that balance when I was working with each actress individually.
PB: Now it's often said that the Korean film industry is very male dominated, and that it's difficult for female directors to make the movies they want to. However recently we've seen some strong female talent coming out of Korea, of course yourself, and we also had director Jeong Joo-ri who made A Girl at my Door with Bae Doo-na and Kim Sae-ron. Do you think it's becoming easier for women in the industry to make their voice heard?
SSW: I still believe there's a long way to go in the Korean film industry until men and women are treated the same, but I feel like this problem isn't just limited to the Korean film industry, it's an issue in many film industries worldwide. There are a lower number of female directors comparative to male, because of that perception that it's a very male orientated field of work. I find a lot of the women working in the film industry are there in supportive roles, rather than that of someone who makes important decisions in the creative process, so it still seems very much to be a mans world.
That being said, I do feel that Korea has become much better than it was before, there are many more positions and avenues now for women to express themselves than there were even just a few years ago. So even though the image of the industry is still a very macho one, it's an image which is gradually fading, which is allowing more female directors to shine and show their talent. While we're still not where we want to be, things have gotten better.
PB: I saw that in the year your debut movie was released, Passerby #3, you also adapted the story for director Lee Hyeon-seung's Hindsight which starred Song Kang-ho. As a gangster thriller, this movie is quite different to the type of material you normally work with, so how did you get involved?
SSW: So for Hindsight it was only an adaptation, it wasn't a movie that I was also going to direct. I guess like I mentioned earlier, my role in this movie was more of a supportive one, and before I wrote Passerby #3, I'd already had some experience of writing various action and comedy films, so it wasn't new territory for me to be involved in this type of production. The key point here for me is that it really was just a supportive role, I wasn't heavily involved in the making of the movie itself. It was mainly in the capacity of providing ideas and attending meetings, so even though it wasn't really my style, for me this was ok because I knew I wasn't going to be directing it.
PB: Now I know you have a potential new movie lined up, Blue Sunset, which would be a co-production between Korea, Australia, and France. I read that the majority of this story would be filmed right here in Sydney, so can you tell us a little about how you're progressing with this feature?
SSW: Wow, where did you hear about this!?
PB: It was listed in the Busan International Film Festival's Asian Film Market, and I read that it won the KOCCA Award (this is a funding prize to gain money for production).
SSW: Oh, I see! Well, at the moment I still haven't received enough funding to go ahead with the film, however the script is almost finished, and I'd like to cast some high profile actors before proceeding with the more technical details. If I can get a good cast together, then I'm confident that we'll be able to shoot, but if this turns out to not be possible, it'll take longer to get the production off the ground.
PB: Well I hope with the success of Madonna you'll be able to make it a reality, and thank you very much for your time.
SSW: You're welcome, and please enjoy the movie.
A big thanks to David Park for arranging and acting as a translator during the interview.
The Korean Film Festival of Australia runs from August 12th – September 27th spanning six cities, so if you're down under, make sure you get to one of the many screenings being shown this year. For more details, visit koffia.com.au.
To read more of our interviews, please click here.