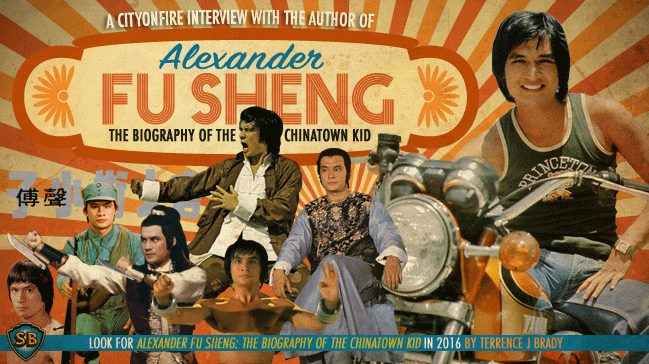 Anyone familiar with the Shaw Brothers studio will no doubt be aware of Alexander Fu Sheng. A charismatic performer known for his mischievous persona and physical dexterity, he quickly became a favorite of both Chang Cheh and Lau Kar Leung, starring in such classic slices of Hong Kong cinema ranging from kung fu epics like Five Shaolin Masters, to comedies such as Hong Kong Playboys.
His life was tragically cut short at just 28 years of age, however his legacy has endured thanks to his many memorable performances. To add to his legacy, screenwriter and kung fu movie enthusiast Terrence J Brady has spent the last couple of years deep in research to create the definitive biography of the star. Looking to debunk the many myths about his life, as well as sharing a wealth of new information and anecdotes, the tentatively titled Alexander Fu Sheng: The Biography of the Chinatown Kid is shaping up to be a must-have for any fan of both Fu Sheng, and the Shaw Brothers studio in general.
Cityonfire was recently able to conduct an exclusive interview with Terrence, who took a break from his busy schedule to answer our question on what, and when, we can expect his book.
1. When you consider all the legends of Hong Kong cinema, Fu Sheng may not necessarily be the first name that springs to mind when you think who could be the subject for an upcoming biography, what gave you the idea for the book?
The idea started back in 2007 when I planned an article in observation of the 25th year of his passing. Life though interceded and it got put on the back burner. Three years later, I traveled to Hong Kong with some friends and one of our primary objectives was to visit Alex's burial site and pay our respects. Prior to that day, he was simply a two-dimensional image on a TV screen but now, being there in his presence, he became very real. Someone who possibly walked the same streets we did while exploring Hong Kong.
I felt he needed a proper tribute and that meant rethinking my article. But why stop there? Why not a book-length biography? The information on many of these Shaw stars comes in scattered bits and pieces and there are truly few books dedicated to a specific individual. Alex was one of the most popular actors of his time whose life was snuffed out prematurely. He was the genuine article and never thought of himself as a movie star. An everyman kind of fellow. I'm sure he would even be a bit embarrassed of the thought of someone writing a book about him.
We have seen many books on Bruce. On Jackie. Now its Alex's time. I hope my efforts will do him justice and that his family, friends and fans will enjoy this biography as much as I have enjoyed researching and writing it.
2. There seems to be a substantial amount of information out there already on Fu Sheng, such as him graduating in Hawaii and living in Bruce Lee's house at the time of his death, what would you say is the appeal of your book to those fans out there who already know all these things about him?
I think there is a good deal of (mis)information out there on Alex. Rumors and hearsay that have been repeated over the years to the point where it becomes an assumed fact. Take for example the story of Bruce Lee's home. People like the allure that these doomed men shared the same domicile. It links them to a common destiny of two martial arts action stars whose lives were taken in their prime. It makes for good storytelling; a movie-of-the-week! Truth is, reality is boring and for a few dollars to the HK Land Registry, one would discover that Bruce's old Cumberland Road home has been owned by the same company since 1974.
As for Alex? He was staying with his brother in Mei Foo Sun Chuen, a housing estate in Lai Chi Kok, Kowloon, at the time of his fatal accident. I know, not as enthralling, but that's reality. The other urban myth we continue to hear is Alex graduated from a high school in Hawaii. I have even seen some places on the web list the name of this school; Roosevelt High School in Honolulu. I obtained a copy of the RHS Class of '71 yearbook and strangely enough, not a single photo of Alex. I then proceeded to speak with a member of the '71 graduating class who also happens to run the RHS class reunions since the early '90s. She contacted several of her classmates and they do recall seeing Alex – in the theater. "We used to all watch those movies and we would have known that he was one of ours. Local media are big on touting our "local talent" or if they ever lived on the island of Oahu. I don't ever remember anything in the local press about him ever having lived here," she stated.
The Cheung family valued education and three of Alex's brothers went on to become doctors but Alex? Alex was the least educated of his siblings, dropping out of school at 15. Despite his lack of a formal education, he proved that one could still be a success even without a diploma. Of course if he had followed in his brothers' footsteps, I probably wouldn't be writing this biography. I considered myself a knowledgeable fan of Alex before starting this book but what I knew at the start pales in comparison to what I know now. This book will be enlightening to even Alex's biggest fans.
3. You've clearly done a lot of legwork on getting the truth about Fu Sheng's life, what's been your favorite moment so far during the time you've been researching the book?
The band Deep Purple once sang, "It's not the kill but the thrill of the chase." My research on this project has become quite addictive. I have spent upwards of two years researching material and have worked with three different Hong Kongese translators. These native speakers have provided me with a treasure trove of material that, as an English speaker, I would not have been able to acquire alone.
Some of the most satisfying moments though have been following a simple clue on my own, which revealed new clues, which then revealed even further clues. It's the journey "down the rabbit hole" which has lead me to many dead ends but also has provided some true nuggets of gold.
The historical significance or the real-life events that some of Alex's films were based on has been an eye-opener to China's history that was previously unknown to me. I could devote an entire chapter or more, for example, to the 1976 war film The Seven Man Army. This movie is one of my personal favorites and my research has helped me better understand the battles that ignited the Second Sino-Japanese War, those who commanded the field and even led me to the grandsons of the one member of the "seven" who was the only known soldier in this film (the identities of the other six, including Alex's character, are unknown and the names used in the film are fictionalized).
Of course, meeting and/or interviewing some of the stars that worked alongside Alex has also been a highlight. I've got to know Alex through the eyes of Robert Tai, Kara Hui, Lo Mang, Chu Ker, Chen Kuan Tai and several others.
4. Fu Sheng obviously had a wide appeal in his prime, what do you think it was about him that gave him such a connection with the audience of the time, and indeed ensures he still has a fan base even today?
Alex was the complete package. He had the looks, charisma, sex appeal, comedic timing and a vivacious screen presence. Women adored him. Men emulated him. He could act … sing … dance … and most importantly, fight. Though sometimes he would behave like the fool, his martial skills were clean and flowed with a matter-of-fact tone. He was versatile and employed a wide range of characterizations; funny, charming, psychotic, deadly. When he was on the screen, one could not help to focus their gaze on him and forget everything else transpiring.
As for a fan base today? When a person of fame dies at an early age, it seems that their following surges. Some even become the stuff of legends; Bruce Lee, John Lennon, Mozart, Billy the Kid, etc. The same can be said about Fu Sheng. His celebrity status continues to grow despite his passing over 30 years ago. Facebook pages, YouTube tribute videos, web articles, even a bronze bust was recently created and donated to the Martial Arts History Museum in Los Angeles. Hopefully this book will only bolster Alex's fan base and help find a whole new generation of readers who will be introduced to his films for the first time.
5. What's your personal opinion on Fu Sheng's place in Hong Kong movie history?
I was a bit disappointed that I didn't see his name on Hong Kong's Avenue of Stars but since I'm unfamiliar with the criteria for nomination, I cannot judge too harshly. Shaw Brothers is the most famous of the film studios to operate in the Pearl of the Orient and Alex was certainly one of their shining jewels. I'm not sure where I would place Alex in the overall picture of Hong Kong cinema as I've only experienced a small portion of it.
However, when I think of Shaw's Movietown, many who worked there seemed to agree that Alex's presence, both on screen and off, made it a memorable place to be. He was a down-to-earth person who didn't get caught up in all the glitz & glam that show biz would bring. His idea of entertainment would be to bring his dogs to the studio which would always liven things up. He had a unique camaraderie with the highest directors to the lowest set construction workers. Dedication to his craft, tomfoolery, random acts of kindness. This was Fu Sheng. To those folks that worked alongside him, he will always have a special place in the history of Hong Kong cinema.
6. What's your personal Fu Sheng performance and why?
Surprisingly I don't think I have one. Last year I watched all 43 of his films in production order and it was amazing to watch Alex mature as both martial artist and cinema star. I got to revisit some of his films I had only seen once before and there were four which were a first time viewing for me. The Chinatown Kid will always be a favorite because it's one of his films I saw back in the 80s but his performance in Sung Chung's The Avenging Eagle certainly stood out during this marathon as it was his first film with a director other than Chang Cheh. A little trivia here. Most believe it was Chang who gave Alex his start but this is incorrect. It was actually Sun who cut him his first break. Details in the book…
7. A lot of people like to speculate on where Bruce Lee would be today if he was still around, do you think Fu Sheng would have potentially rivaled Jackie Chan for the king of kung-fu comedy throne had his career not been cut short so tragically?
Good question. And I'm sure many might be disappointed to hear this but I don't believe he would have rivaled Jackie as the king of kung fu comedy. No, not because Jackie was more skilled. Au contraire. It was Jackie who mimicked Alex.
But Alex's misfortunes on the set, his moving towards working behind the scenes and lastly his own admission pretty much ends any speculation: "No. I am not particularly interested in acting in films. It's mainly because I make a living at it is all. Since I left school, I have never asked my family for money. I don't want to rely on my family for my whole life. To be independent and make a living, I chose shooting films, but this is temporary. I won't stay in the industry for the rest of my life." While discouraging those words might be to his fans, Alex was not one to sugarcoat things. He spoke his mind and despite his future plans to leave the industry, he has left us with an exciting collection of films to explore.
In the book, I will take an in-depth look at each production, those who worked on the films and provide many colorful conversations from behind the scenes. While Wits of the Brats was Alex's first film as director, there was at least two other productions in the pipeline that he was going to helm plus other films he was slated to appear in but did not do so for various reasons. I will also explore the unfinished Chor Yuen crime caper The Mark of The Eagle featuring Ti Lung which was shelved due to his Black September injuries.
8. Most importantly of all, when can we expect Alexander Fu Sheng: The Biography of the Chinatown Kid to be hitting the shelves?
I'm working on the second draft at the present, and would love to see this in the hands of Hong Kong cinema fans in 2016.
If anyone has any questions they'd like to ask Terrence regarding the book, he can be contacted at fusheng@teako170.com.