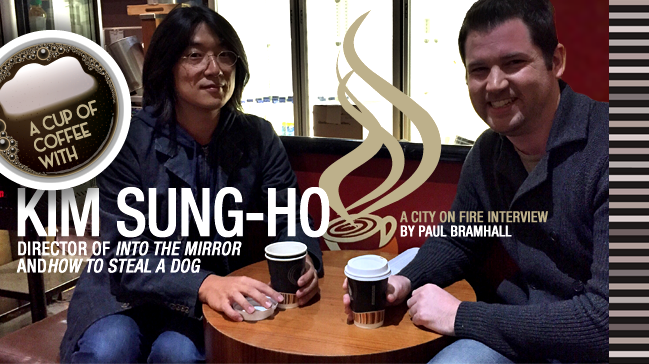 In many ways 2003 could be considered as the pivotal year for the Korean film industry. With the advent of the DVD format, Korean movies had already begun filtering through to the western market, with titles such as Shiri, Nowhere to Hide, and Tell Me Something becoming a familiar sight on high street shelves. However in 2003 it seemed the country could do no wrong when it came to movies – Park Chan-wook made the seminal OldBoy, Bong Joon-ho directed the classic Memories of Murder, Kim Jee-woon adapted the horror A Tale of Two Sisters, and a director by the name of Kim Sung-ho made his debut with Into the Mirror.
As the first decade of the millennium progressed on, Hollywood developed an unhealthy obsession with re-making practically any Asian horror movie they could get their hands on, and Into the Mirror was no exception. In 2008 the re-make hit cinema screens under the title Mirrors, directed by Alexandre Aja and starring Kiefer Sutherland, and even spawned a sequel.
Sung-ho himself could be said to have taken an unexpected career path, which saw him move away from full length features to focus on directing a number of short films, which could usually be found released as a part of omnibus movies. From most recently directing a segment in Horror Stories 2, to helming a segment in 2012's Fighting! Family, a movie commissioned by the Korean government with the sole purpose of encouraging the population to reproduce, due to the countries low birth rate. Yes you read that right.
This year Sung-ho releases his third full length movie, which as with his previous two he also wrote, in the form of How to Steal a Dog. Far from being a remake of Bong Joon-ho's debut Barking Dogs Never Bite, it's a family friendly tale adapted from a novel by US writer Barbara O'Connor. The movie was selected to be screened on the opening night of the Korean Film Festival of Australia 2015, and Sung-ho flew in to attend the screening. Before being whisked into the depths of Sydney's main cinema, the director was graceful enough to give me 30 minutes to have a one on one discussion on his time working in the film industry.
With a laid back style and moppish hair, Sung-ho has a softly spoken manner which was easy to listen to, and was genuinely surprised that a non-Korean would know so much about his movies. Armed with a black coffee, we took a seat in a café on the main road in Sydney city, and got down to business.
---
Paul Bramhall: Director Kim, welcome to Sydney, and thank you for taking the time out to do an interview!
Kim Sung-ho: Thank you, it's a beautiful city!
PB: Now your new movie, How to Steal a Dog, is based on a novel by the American writer Barbara O'Connor. It's quite unusual to see a Korean movie adapted from a US novel, so what was it that appealed to you about the story?
KSH: In South Korea children's movies are very rare, especially in the last 10 years, so in the beginning I thought that I should make a children's movie. But as time passed my thought developed to a point that I wanted to make a family movie, rather than one which is just targeted at kids. So I felt determined that I should direct this film, because in Korea now there are a lot of films that use really dramatic and heavy scenes to promote themselves, but this movie doesn't have those types of scenes, it's a very heartwarming piece. I feel that in South Korea these types of movie rarely get invested in, and are not produced very often, so I felt a duty that I have to make this film.
PB: I see, so were there any difficulties in transferring a story which is obviously rooted in U.S. culture, and then transferring those themes and concepts to a story which would fit in with Korean culture?
KSH: Yes, there were many difficulties, however I'd say the one biggest difference from a cultural perspective was that of the Mum and the children living out of the car. In the U.S. perhaps it's not that rare or unusual for people to accept characters who live in a car, but in South Korea such a situation is unthinkable. So I needed to kind of Korean-ize this part of the story, and present it in such a way that it would be acceptable and feasible to a Korean audience. It was a big challenge, and it took me a year to figure out how I could make it sound like a believable story.
PB: How to Steal a Dog features Choi Min-soo, now many readers of COF will be familiar with this actor from his gritty action roles in the likes of The Terrorist and Holiday, and of course the TV drama Sandglass. What was it like to work with him?
KSH: Choi Min-soo obviously came with the reputation of being a tough guy to work with in the Korean film industry, so it's true that many directors tried to avoid working with him. Because of this he's rarely appeared in Korean movies for close to 10 years now, and then of course you have the rumors of him beating up crew members. Perhaps because of these reasons, for me this image that he has made him the perfect fit for the role of the homeless character in the movie.
When I gave him the script, even though the other people who were going to be a part of the production were asking me to not make them work with him, Mr Choi really loved it and was very enthusiastic to participate, even willing to forsake being paid. So actually it became easy to collaborate with him, and one of the things I quickly found out about Mr Choi, is that he likes to give opinions on how to direct certain scenes. For me as a director, I like to listen to the opinions from others, and I found his input very helpful, so it turned out to be a good combination for the movie.
PB: In the past you've worked a lot in the short film format, which are usually released as a segment in larger omnibus movies. Is there something in particular that appeals to you about working in the short film format over full length features?
KSH: The first feature film that I directed was Into the Mirror, and it was just after my graduation. I felt like I really needed to prove myself, but at the same time I knew there was a big room for improvement. For me it was especially in the area of being able to direct actors and actresses, and conveying the way they should act. Short films really provided me with the experience of being able to direct actors and actresses, so I find the short film format is perfect for me. You don't need a lot of investment, and you don't have to worry about being too sensitive regarding the content of the film, so they gave me a lot of opportunities to experiment with different directing styles. Based on the experiences I gained working on those short films, I felt it gave me the skills to be able to confidently direct actors and actresses in feature films.
PB: Speaking of Into the Mirror, this movie was really one of the first Korean movies to get widespread distribution in the west. How does it feel to know you were in that first wave of Korean directors to have their movies distributed and gain exposure overseas?
KSH: 2003 was a very significant year for the Korean film industry. It was an important year, and so many great films were released during it, for example Memories of Murder, Save the Green Planet!, and OldBoy. It could almost be interpreted as an internationalization of Korean film, with the huge variety of movies that became successful.
I feel very lucky that I directed a film in that specific year due to its significance, and I really believe that there was an atmosphere within the industry that people would invest in and produce a movie, as long as it had a good script and idea. I feel that's really important in the film industry, however today this has become impossible. It's sad, because I think it was that belief which made the films successful, with the knowledge that the investment and production would be there based on the strength of the script and idea.
PB: In the 00's so many Asian horror movies were re-made by Hollywood, and of course in 2008 Into the Mirror was re-made as Mirrors with Kiefer Sutherland. How did it feel for you, having written and directed the original, knowing it was being re-made into an English language version, and what's your general feeling of Asian movies being re-made by Hollywood?
KSH: When I first heard the news that my film was going to be remade, I was very surprised. For me personally, I find the idea of Asian movies being re-made by Hollywood to be a good idea, because it means the story doesn't just remain within Asia, but it's transferred to America as well. When I watched Mirrors, obviously there were some points that I liked, and there were some points that I didn't like, but my main impression from watching it was of how much budget Hollywood movies are able to get behind them.
Watching Alexandre Aja's version, I realized that he presented some ideas that even I didn't think about when making my version! So I'd say overall, my opinion on Asian movies being re-made by Hollywood is that they take the idea of the film, the core idea, and then they Americanize it to make a U.S. version, which I find really interesting.
PB: That's a great answer. Well I'll pose the question to you, if you could re-make any movie, which one would you choose?
KSH: Actually there are many movies which I'd like to re-make, but how many of them are feasible is a difficult question, as they're usually decided by the producers. One of the films I'd really like to re-make is a French film called The Apartment, and also the Hollywood movie Dead Again. I think the scenarios in these movies would transfer really well into a Korean film.
PB: You're one of the credited screenwriters on 2007's Black House, which was directed by Sin Tae-ra. I noticed in most of your movies you write them and direct them, so in this instance, was it strange to see someone else directing your script?
KSH: Actually I was also supposed to direct Black House, but during the preparation for the film the production company changed, and unfortunately as a result I didn't get to direct it, so Sin Tae-ra ended up as the director. For me the success and feel of a movie comes down to who directs it, so while I was watching the finished film I could see that a lot of my script had been changed, and so rather than still feeling like it was my movie, it made me feel distanced from it due to the changes that were made.
PB: Your 2010 feature film She Came From has quite a meta-feel to it, in that it deals with people working in the movie industry – a director – and the story is manipulated by another character deciding to re-write the script. In some ways it echoes the alternate realities that are touched on in Into the Mirror. Are these aspects of your work something that you're drawn to?
KSH: Wow, you've done a lot of research! (laughter) Yes I think I like this theme a lot, and when I was directing She Came From it was actually quite experimental. I started the film without any script, so I attempted to direct a film with two actresses for two weeks, and we didn't really have a story. So I think that structure wise it was very experimental, and you know the alternative reality scenes are something that I really like. I believe I borrowed the idea from David Lynch's Mulholland Drive, and I think these kind of ideas will continue to produce interesting movies in the future.
PB: Great, and for the final question, what can we look forward to next from Kim Sung-ho?
KSH: There's a Korean web-toon called Gallbladder, which is the story of a little boy who's trying to find his mother, and for some reason he gets captured. After 15 years he's mysteriously released with 400 kilograms of gold. Obviously he doesn't know why he was captured or by who, he only knows that he still needs to find his mother, however with all the gold he's now carrying, he gets a lot of attention from many unscrupulous characters who want to take it. At the moment I'm working on the script, and it's going to be an action movie
PB: Sounds great, and we'll be looking forward to hearing more about it! Good luck for your movie screening tonight, and thanks again for taking the time to talk.
KSH: Thank you.
A big thanks to David Park for setting up the interview, and Soyoung Kim Greeberg for her excellent translation skills.
The Korean Film Festival of Australia runs from August 12th – September 27th spanning six cities, so if you're down under, make sure you get to one of the many screenings being shown this year. For more details, visit koffia.com.au.
To read more of our interviews, please click here.