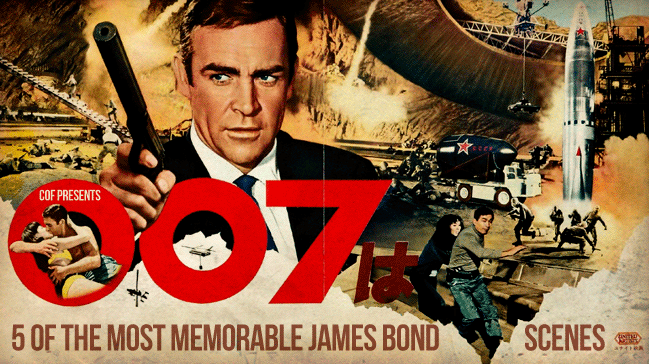 EON Production's highly popular James Bond franchise has produced a total of 25 movies over the course of 53 years and many memorable moments (not necessarily "action" based) to go with them, however, certain scenes have made more of an impact than others, so over a great variety of choice, here are the top 5 James Bond scenes of all time:
---
5. License to Kill (1989)
Blackjack game between Bond and Bouvier
Casino scenes are very much a recurring theme with regards to James Bond films, however, the 1989 Bond outing License to Kill goes in a more unique direction as it features a scene including a game of blackjack.
Blackjack is a game that has grown in popularity over the years and you can now play online blackjack at most online casino sites. Bond, portrayed by the underrated Timothy Dalton, steps up to challenge the primary antagonist of the film Franz Sanchez (Robert Davi) to a game of blackjack, sees Bond victorious and ends with him securing an astronomical winning figure of £250,000.
John Glen's License to Kill is known for its more hard-edged approach with elements that mirror genre classics like Scarface, Die Hard and Lethal Weapon. In fact, we wouldn't be surprised if music composer Michael Kamen (who did the scores for the latter two) was chosen to give the film an edgier vibe. | License to Kill trailer.
---
4. Casino Royale (2006)
Le Chiffe poisons Bond
Out of all actors who have played Bond, Daniel Craig's portrayal is without doubt the most gritty. This is a possible reason why Craig's Bond produces a rare moment where he's seriously threatened not by any weapon, but by a poison.
It occurs during a very tense game of poker, where his in-game adversary and main movie antagonist, Le Chiffre (Mads Mikkelsen) spikes his Martini with poison. At the first onset of the effects of the poison, Bond quickly goes to the bathroom to make an emetic of salt water to attempt to expel any remaining poison in his stomach. He then rushes back to his car in order to use the AED (Automatic External Defibrillator).
His connection team back at MI6 determine he has been poisoned with Digitalis. He is on the verge of perishing as he is unable to singly manage the defibrillation process and he collapses, however, he is revived as Vesper (Eva Green) arrives just in time to set the AED in motion. This was a very tense scene which gave the viewer the sense of Bond actually being in serious and mortal danger.
As whole, Martin Campbell's Casino Royale is considered the most loved 007 film. Talk about a movie with top notch acting, a great script and a formidable Bond girl, played by the spectacular Eva Green. | Casino Royale trailer.
---
3. On Her Majesty's Secret Service (1969)
The death of Bond's wife
On Her Majesty's Secret Service marked the end of the 60s and the start of an entirely new Bond actor: George Lazenby. As the film's original trailer advertises: It's "Bigger, Better, Different."
One of the most noticeable features of a Bond film is his talent for womanizing. 007 has had countless affairs over all of his movies, which is why when he finally marries a woman, her quick and untimely demise acts as such a massive moment.
At the beginning of the film, Contessa Teresa 'Tracy' di Vicenzo (Diana Rigg) is saved from attempted suicide by Bond, and over time the two fall in love, leading to their marriage in Portugal. Following the marriage, when Bond stops the Aston Martin to remove chain flowers from the roof, the main antagonist of the film, Ernst Stavro Blofeld (Telly Savalas) and henchwoman (Irma Brunt ) attempt to kill Bond in a drive-by shooting. Their attempt at this fails, however, they succeed in killing Tracy, who has taken a bullet to the head.
On Her Majesty's Secret Service is often divided between Bond enthusiasts as being either the worst or best in the series. Perhaps director Peter Hunt's rapid-style filming/editing-style may have been too ahead of its time in 1969. Another factor is the introduction of a new Bond, which didn't help the series' worldwide fanbase who saw Sean Connery as irreplaceable. | On Her Majesty's Secret Service trailer.
---
2. Goldfinger (1964)
Goldfinger 'expects Bond to die'
In his many experiences of taking on villains, Bond utilizes his wit and humor as a tool to get the better of his adversaries. However, Bond has this used against him in a manner sure to highly entertain viewers.
In this scene, Auric Goldfinger (Gert Fröbe) has Bond captured, laid on a table with arms and legs strapped and a laser beam coming between his separated legs. Goldfinger gives a stark warning to Bond, saying that his next remark must be carefully made, as it would probably be his last, to which Bond states: "Do you expect me to talk?". Goldfinger's reply to this is simply: "No, Mr Bond. I expect you to die!"
Director Guy Hamilton's Goldfinger is the quintessential Bond movie: Connery is at his best, the villains are unforgettable, and the theme song, by Shirley Bassey and John Barry, is an undisputed classic. | Goldfinger trailer.
---
1. Dr. No (1962)
Bond introduces himself
The greatest Bond scene is seen in the very first movie, Dr. No.  This is the moment when 007 truly makes his mark and announces himself to the audience with his iconic introduction. In a casino, he is participating in a game of baccarat where he is impressed by another player who introduces herself as "Trench, Sylvia Trench". She goes on to say "I admire your luck, Mr…", but before she is able to finish, Bond strikes the baccarat table, flips open his cigarette case and replies "Bond, James Bond".
Director Terence Young's Dr. No sparked off a world-wide phenomenon that still moves audiences 53 years later. Even then-President John F. Kennedy, who was a fan of Ian Fleming's original 007 novels, requested a private showing of Dr. No in the White House. The man had taste. | Dr. No trailer.
Stay tuned for another Top 5 Bond list – and feel free to post your own in the comments section below. Until then, just a reminder that the Blu-ray & DVD for SPECTRE hit retail outlets everywhere on February 9, 2016.