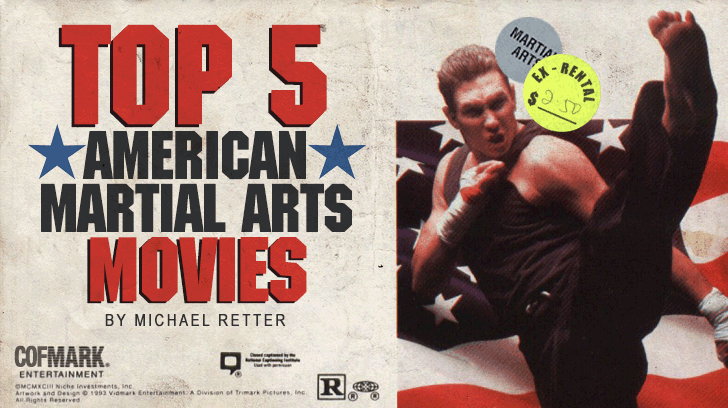 A large slice of every video shop was once dedicated to shirtless, blood-dripping men, striking clenched poses and displaying great fighting skills. Taking their key from Hong Kong cinema, the films of Jean-Claude Van Damme (perhaps the man who personifies video more than anyone) and the various sub-Van Dammes was a vibrant and varied industry of fighting tournaments programmers, bar room brawls and cops who knew chop-socky. They were born in a pre-CGI age, when audiences could trust the images as being true. At their best, these films were among America's most cinematic, visually exciting and occasionally sublime.
Not since Sam Peckinpah's The Wild Bunch was violence glorified so operatically. The "action movie" became part of film language, where time would stand still and a physical action, such as an aerial kick romanticised in slow-motion. But some of these films also represented the most authentic film noir of their time, B-movies about underground kick-boxing, gangsters and gamblers in seedy, neon-lit nightclubs. And like film noir, this genre was a meat and potatoes "people's cinema", dropping the hyferlutened for universal myths everyday people could relate to.
The time is right for retrospective, it was after all the American B-grindhouse pictures of the 30s, 40s and 50s that inspired the French New Wave. These films, with their strong style and aesthetics can be inspirational to a new generation…
No Retreat No Surrender (1986)
Perhaps the most successful invasion of another country's film form/style into the American market since German expressionism's distillation into film noir, this Hong Kong-produced American grindhouse picture brought Chinese cinema sensibilities to American soil for the first time.
Produced by legendary Hong Kong figure Ng See Yuen, directed by Corey Yuen (The Transporter) and inspired by the commercial success of The Karate Kid, Seasonal Pictures went overboard trying to make an "American" film; filled with breakdancing, parties, cold war jingoism and an all-American kid taking revenge on a criminal karate syndicate and Russian-hulk who crippled his father.
The fantastic villain of the picture was an unknown and over-zealous Jean Claude Van Damme, credited as playing "Ivan The Russian", who actually injured many of the actors by not pulling his kicks and punches. But the broken noses and bones he inflicted resulted in a B-masterpiece, a strange mix of 80's nostalgia at surface level with its routes found in Chinese Peking opera. How does the teenage all-American take on the muscles from Brussels? – by meeting the ghost of Bruce Lee in an abandoned house for training! Known in Germany with the equally cool title of Karate Tiger.
---
Bloodsport (1988)
Would you like to better understand the leader of the free world? President Trump has sighted this Cannon classic as one of his favourite films. Shot on location in Hong Kong in the dangerous, lawless "walled city", Bloodsport stars Jean Claude Van Damme, who enters the infamous underground "Kumite" martial art tournament to avenge the death of his Master's son.
High-ish production values and a rare perfectionist streak in the genre made this picture reach transcendent heights of poetic violence through the use of Van Damme's physical performance in slow-motion.
Bloodsport is supported by an international cast of martial arts performers, each with their own distinct styles, such as sumo and monkey kung fu. Partly inspired by the international tournament within Enter the Dragon and even sharing one of its villains: the humongous and frightening Bolo Yung. Legend has it that the fight scenes were not working until Van Damme stepped into the editing suite and helped craft what we see so operatically today.
Bloodsport was a global smash hit that gave JCVD instant stardom and provided cinemas and video shops with a new viable take on the martial arts genre.
---
No Retreat No Surrender 3: Blood Brothers (1990)
The most insane martial arts film shot in America incorporates an albino terrorist leader's plot to kill president George H. W. Bush. In classical Hong Kong-style, Blood Brothers bares no connection to previous NRNS-series instalments, apart from sheer wackiness, creative dance-like use of violence and a tacked-on cold-war nationalism verging on parody.
One of the great screen fighters, Loren Avedon, was brought into the series to replace Kurt McKiney, who broke his contract to return in the sequels. But these mishaps didn't stop the strange phenomena of this movie series getting better with every sequel.
Seasonal film's Hong Kong-style production on American soil brought truly daring and dangerous fight sequences to VHS. The other "blood brother" and truly joyous cinematic presence Keith Vitali, had a plaster-cast on his arm for the first few scenes because he genuinely broke it during filming.
Scenery is chewed and successfully digested by bleached blond and English-accented Rion Hunter as the leader of a strange gang of kung fu fighting communist terrorists. This all leads to the assassination plot of George Bush senior, incorporating real footage of the president, which along with strange moments of text used on a blank screen, constitutes the most unlikely tribute to Jean-Luc Godard in cinema.
Cheesy quotable dialogue and severe bone-crunching where it counts, NRNS 3: Blood Brothers is among the very cream of B-cinema and wildly enjoyable.
---
Deadly Bet (1992)
Deadly Bet came out of a wonderful straight-to-video company called PM entertainment, whose philosophy was to put all the money on the screen. Later on they would master the use of multiple flipping cars and pyrotechnic explosions to rival Hollywood, but in their early era, they would focus on smaller kickboxing noir pictures.
Within the world of sub-Van Dammes, Jeff Wincott has always been considered the greatest dramatic actor. This allowed the film more dramatic flexibility as Wincott's gambling in Vegas gets out of control. The pivotal dramatic moment is when he uses his actual Wife as collateral but loses the bet, something that could only be done in straight to video B-movies. His wife is then forced to stay with Jeff's nemesis(!) while money owed is somehow recouped.
The rest of the film is spent with Jeff working with gangsters, fighting in underground tournaments and trying to redeem himself . As ridiculous as the film sounds, it's executed in a sincere way; the standard training montage given a really melancholic twist of moral and not just physical improvement. PM used real Vegas locations and casino interiors, giving this B-picture effective atmosphere. This is a rare treatment of the subject matter, which although still cracking various jaw-breaking punches and kicks, has superior lead actor and genre bit-players to have a noir film's dramatic impact.
---
Drive (1997)
Drive is the last truly great American martial arts film, perhaps constituting its very high point before decline. With a medium budget big enough to allow tremendous visual scope and sci-fi themes, but small enough to prevent them from using CGI, Steve Wang's passion project is the most balletic martial arts picture shot in America.
Hawaiian gymnastic B-Movie star Mark Dacascos stars as a Billion dollar man with a futuristic "power cell" embedded in his chest that makes him super-human. Problem is, that gives him a billion dollar price on his head. It's a sci-fi road movie with comic relief from co-stars Kadeem Hardison and Brittany Murphy.
Wang's ambition with this project was to create the most authentic tribute to the great Hong Kong martial arts films, specifically those of Jackie Chan and Dacascos's amazing screen fighting abilities made him the perfect accomplice. Rather than the intended gun-play and explosions in the original script, Wang rewrote the action scenes to feature wall to wall physical martial arts combat. He warned Dacascos "I want my actors really hitting each other, you will be bruised from head to toe!". The choreography is thus frenetic, often involving 3 or 4 people kicking and punching a back-flipping and swerving Dacascos at one time.
It's an action film made with tremendous visual integrity. A confused studio butchered the film by 16min on release, but presented in the DVD is the full directors cut in all its actioned-packed glory.