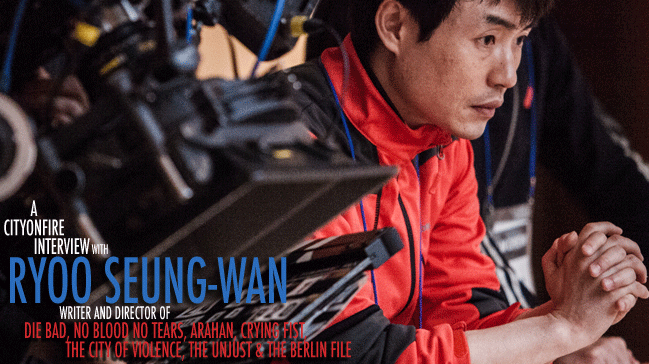 Korean filmmaker Ryoo Seung-wan has carved a memorable path through genre cinema, earning the attention and acclaim of action fans worldwide. Early works, such as the special effects-heavy superhero film Arahan and the Tarantino-esque City of Violence, featured a one-two punch of humor and martial arts action.
Since then, the director's films have struck a decidedly more serious tone. 2010's police action/thriller The Unjust took an unforgiving look at Korea's capitalist society. Now, Ryoo Seung-wan is back with a globe-hopping espionage thriller in the Bourne vein. The Berlin File is poised for DVD release in North America on December 24th, 2014, and fans of high-octane action won't want to miss it.
Recently, the busy filmmaker was kind enough to answer some of Cityonfire.com's burning questions:
---
With many of your earlier films, such as Arahan and City of Violence, it felt like there was a deliberate blend of comedy mixed in with the action/violence. Both The Unjust and The Berlin File seemed to generally carry a much darker and grittier tone. Is this a conscious direction you're going in as a filmmaker or is it merely how these last two projects have evolved?
I personally think that comedy is really important, in both film and real life. However, I believe that comedy should be used based on the tone of the film. It's not like you add comedy here and there for your satisfaction. Comedy needs to work well with the movie. For example, the movie The Unjust has many comedic scenes. In The Berlin File, comedy was not necessary because I needed to maintain the dark and gritty tone of the story. So I would say it's not due to evolution, but rather due to the fact that the story of The Berlin File didn't require comedy.
Although many of your films are wildly different from each other, they typically contain some element of action. What is it about the action genre that continues to fascinate you, and why do you think it allows for such a wide array of stories to be told?
'Action' is made up of movements. The foundation of a movie is supported by a combination of many movements. In the screen the images move, sounds move, time move, and the audiences' reaction move. With this in mind, I think action is one of the most purest form of expression in a movie.
Action also means conflict. Drama requires conflict and the way that conflict manifests is in the action. Without conflict, there would be no action. I think the thing that makes action movies appealing is the fact that it pushes conflict to an extremity.
In an age in which computer effects and shaky camerawork are often used to hide actors' lack of fighting prowess, you really embrace practical stunt work and intricate fight choreography – as seen in fight sequences like The Warriors homage in City of Violence. It clearly makes a difference in the film product, but what makes you as a filmmaker continue to embrace this more 'old school' approach to action?
I grew up watching 70s and 80s action movies. For me, the filmmaking process is meaningful in itself but it also has meaning in the process of the way I live my life. In many ways, I am naturally inclined to recall the most memorable moments in my life. Kind of like the way Kane from Citizen Kane seeks "Rosebud." This is probably the reason why I naturally embrace the more 'old school' approach to action. And as time passes, I desire to capture the true and pure state of a moment in life to my films.
It could also be because I'm just not too familiar with new and advanced technology.
The Unjust, while enjoyable as a straight-up crime/thriller, also felt something like a scathing indictment of capitalism run amok. Did the film receive much attention for its social commentary in Korea?
It's true that certain elements of the movie is based on stories that happened in real life. That's probably why the movie received good reviews on its realism.
Korean cinema continues to gain popularity among fans of Asian films in the West. However, it is difficult for most Korean films to find distribution in North America unless they feature action or horror elements. Do you see this trend changing in the future, or perhaps you feel it's not even a trend that needs to change?
This is a tough question to answer because it depends not only the subject of the movie but also the language, the cast, and the cultural understanding between countries. The Korean film industry have made various attempts to adjust their film to U.S. audiences to successfully enter the U.S. film market but was faced with many challenges. On the contrary, some films with a strong Korean perspective and identity did better.
I think it is natural that more movies with action or horror are introduced internationally because they don't require much understanding of the country's culture. It would be nice if audiences who enjoyed Korean action or horror movies to naturally get into other Korean movies of a different genre. However, how do you suppose I be able to accurately predict the future trend of another country other than my own?
Thanks again to Ryoo Seung-wan, Jill Gurich at MPRM Communications and our very own HKFanatic (great questions!) for making this interview happen. Ryoo's latest film, The Berlin File, hits DVD on December 24th, 2014. Be sure to check it out!