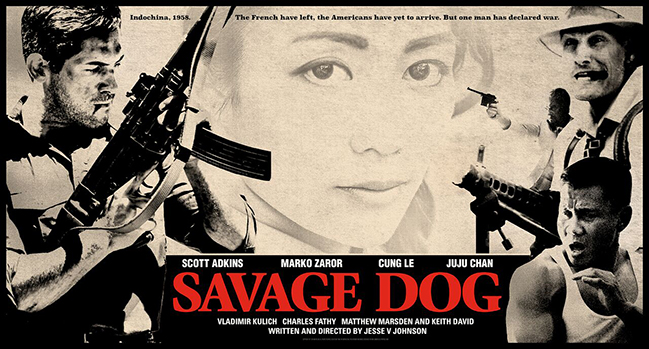 Action director Jesse V. Johnson (The Last Sentinel, Green Street Hooligans 2) is currently shooting his next film, Savage Dog, which is described as "A bold, non-stop action epic unlike any other."
Savage Dog will feature martial arts stars Scott Adkins (Close Range, Zero Tolerance), Marko Zaror (Redeemer), JuJu Chan (Crouching Tiger, Hidden Dragon: Sword of Destiny) and former MMA fighter, Cung Le (Dragon Eyes). Other cast members include Vladimir Kulich (The 13th Warrior), Keith David (The Thing), Sheena Chou (Shanghai Hotel) and Aki Aleong (Pound of Flesh).
As the Cannes sales poster (via Twitch) reveals, Savage Dog is a period actioner that takes place in Indochina, during the merciless 1950s. The film will be released in 2017.
Updates: Check out a brand new marketing poster (via Scott Adkins FB). Also, watch the video below for a pack of set photos from the production: