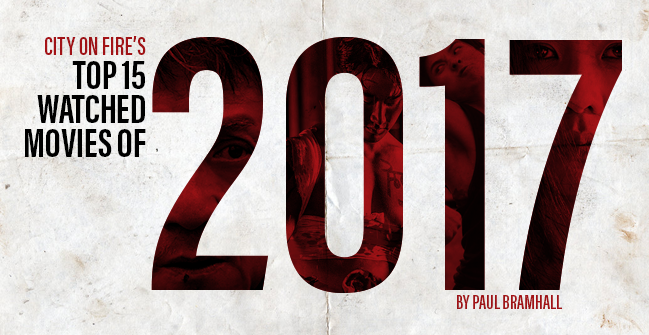 For various inexcusable reasons, last year I omitted posting a list of the best movies bore witness to in 2016. Thankfully 12 months on, looking back over my movie viewing habits of 2017, I can safely say there's definitely been more good than bad. And when it was good, it was really good. So it seems apt to once more pull together a summary of titles I found myself categorizing as top drawer slices of cinema, for reasons as various as the genres represented.
I'll also be including a bonus entry, which we'll call the clunker of the year (which is putting it politely), for that special movie we likely all watched at some point that should be classified as a crime to celluloid. In an ideal world I'd like to think everyone's own list would likely share the same nomination as my own, but in the unlikely event you feel you saw something worse, please feel free to share your thoughts in the comments section.
Of course the same goes for any movies you feel may have been missed overall. While I watch a lot, I'll be the first to admit there are always titles that slip through the net, such is the case that if you commit to watching every new movie that comes out, you'll likely never have time to watch anything else. Which brings me to the usual disclaimer that the list is of movies I watched for the first time in 2017, not just movies that were released that year.
As is the COF tradition, the movies will be listed in order of release, so without further ado, let's begin.
---
Extraordinary Mission (2017, China) – A movie that seemed to be largely ignored upon its release (though thankfully it's now been picked up by Crimson Forest Films, who'll be releasing it stateside on February 6th), most likely due to its decidedly ordinary title, and similarities to Dante Lam's Operation Mekong. It's a shame, because those who did ignore Extraordinary Mission are missing out on a simmering undercover thriller, anchored by stellar performances from Huang Xuan and Duan Yi-Hong. Building up to a fantastic 25 minute action finale, the gritty and grounded approach that directors Alan Mak and Fletcher Poon apply to proceedings, proves to be a winning one.
Wolf Warrior 2 (2017, China) – If someone had told me at the beginning of the year that one of my favorite movies would be a Chinese action flick, I likely would have laughed. If they'd gone on to say it would be a sequel to a movie I suggested China could force people to watch as a form of torture, delirium would be a real possibility. However, Wolf Warrior 2 proved to be that rare treat – a sequel that blows its completely forgettable predecessor clean out of the water, likely with an RPG fired from a mile away. Containing one ludicrous action sequence after another, executed with a refreshing lack of CGI and performed poker faced, Wu Jing's bombastic Africa set sequel delivered everything he should of first time around, and maybe even a bit more.
Okja (2017, South Korea/USA) – Director Bong Joon-ho's sixth feature length movie sometimes felt like it had more attention given to the controversy it caused at Cannes, around if a Netflix original production should be allowed to compete, than it did the actual movie itself. Now that the furore has died down, hopefully Okja will be recognized for the masterpiece that it is – a genre bending road trip about a little girl and her friendship with a genetically modified super-pig. Indeed, as odd as it sounds, the likelihood is that without Netflix, Okja would never have been made. Joon-ho said himself he was given carte blanche to make the movie how he wanted, a luxury that for many directors these days is a rarity, and the end result was well worth it.
The Foreigner (2017, UK/China) – The announcement of any new Jackie Chan movie these days comes with a certain amount of trepidation, as his Mainland pandering, and what appears to be a 'say yes' attitude to every role he's offered, often result in viewing experiences akin to a train wreck. However the news that he was teaming up with Casino Royale and Goldeneye director Martin Campbell, and actor Pierce Brosnan, raised many fans hopes for a return to form. Those hopes didn't prove to be in vain, with The Foreigner delivering Chan's best performance in years, providing the perfect complement to a seething performance by Brosnan, as a politician with a dark past rapidly catching up with him.
A Single Rider (2016, South Korea) – The last decade has seen Lee Byung-hun headlining everything from sprawling historical epics, to intensely violent revenge thrillers, so to see him returning to the kind of drama that he originally started out in was always going to be a curiosity. Playing a salary man who's just been made jobless, when the firm he works for declares bankruptcy, he heads to Sydney, Australia where his wife and child have been living for the past 2 years. However the possible affair he witnesses his wife having proves to not be the only surprise he'll come across, in a low key tale of reflecting on what it means to regret, and doing something about it while we still can.
Karate Kill (2016, Japan) – With Kurando Mitsutake's 4th feature everything that's old is new again. For those that miss the wild 70's karate flicks of Sonny Chiba, in all of their flesh baring, eye ball popping exploitation goodness, Karate Kill is the fix you're looking for. Mitsutake fills his latest with a debut lead role for karate black belt Hayate, fan favorite Asami, and AV actress Mana Sakura. Throw in liberal doses of karate induced dismemberment, along with plenty of gratuitous nudity, and it's enough to make any discerning fan question if what they're watching was in fact made in 2016. Thankfully it was, which hopefully means we can see more pairings from Mitsutake and Hayate in the near future.
Harmonium (2016, Japan) – Writer and director Koji Fukada takes the most Japanese of genres, the family drama, and puts it through the wringer in Harmonium. A quietly dysfunctional family's daily routine is interrupted when a mysterious stranger, played with an understated intensity by Tadanobu Asano, turns up on their doorstep, and the father invites him to stay with them. What the relationship is between Asano and the father is slowly revealed through the course of the movie, which never rushes its pace, and when the truth is on the table it leads to unexpected and devastating consequences. Fukada crafts a tale which, while having no clear resolution, stays in the mind long after the credits role.
The Truth Beneath (2015, South Korea) – The sophomore feature from director Lee Kyoung-mi, The Truth Beneath eschews the comedic tendencies of her debut, and instead takes us on a darkly psychological journey of a mother attempting to track down her missing daughter. While the missing child plot is a familiar trope within the thriller genre, here it takes us down a rabbit hole of long kept secrets and dangerous lies, which bubble to the surface in increasingly violent and cruel ways. Anchored by a career best performance from actress Son Ye-jin, with a supporting turn by the late Kim Joo-hyuk as her husband, The Truth Beneath is a standout in recent Korean cinema.
I Am a Hero (2015, Japan) – Frankly I never expected to be declaring a Japanese zombie movie as one of the best the genre has to offer, with decidedly low budget and uninspired splatter flicks dominating the country's output for a long time, but I Am a Hero bucks the trend. Based on a manga, about a down on his luck manga artist being caught up in the middle of a zombie outbreak, director Shinsuke Sato shows a refreshing restraint from using CGI, instead reverting to practical effects that allow for proceedings to get decidedly messy. Cue plenty of exploding heads, and possibly the most reluctant saviour to ever grace the screen, as our hero struggles with his moral conscience because he doesn't have a permit to use his shotgun in public.
Metro Manila (2013, UK/Philippines) – Philippines cinema has slowly but surely been gaining international recognition in recent years, and this co-production with the UK is one of the most clear examples to see why. Helmed by British director Sean Ellis, and filmed almost entirely in Tagalog, the tale of a country bumpkin who takes a job as an armoured truck driver in Manila slowly evolves from a humanist drama, into the heist thriller it's (somewhat misleadingly) billed as. Filmed in a way that makes the crowded streets and slums of the city just as much of a character as the actors populating it, Metro Manila builds to a satisfyingly bittersweet conclusion.
R100 (2013, Japan) – To say that comedian turned director Hitoshi Matsumoto has an eye for the weird and the wonderful is probably the understatement of the year (and yes, I know it's only January). While he was last on international radars with his 2007 kaiju comedy Big Man Japan, 6 years later proved that he was still capable of grabbing the world's attention with the BDSM themed R100. A play on Japan's rating system, technically it means that nobody under 100 should watch the movie, and if you're asking why, then the bombardment of latex clad ninjas, leather bound dominatrixes, and excessive saliva usage should soon answer your question. Hilarious from start to finish, R100 is probably the most unique movie you'll ever see.
Hole aka The Trap (1997, South Korea) – Back in 1997 the Korean Wave, that was well and truly underway in the early oughts, had yet to kick off, and as such a large portion of pre-2000 Korean cinema has remained relatively inaccessible. Hole is one such production that deserves any movie fans attention, a kind of Monster-in-Law but played as a psychotic thriller, as the mother who's a little too close to her son for comfort attempts to see off the prospective bride, in increasingly violent and shocking ways. With echoes of Hitchcock's best work, director Kim Sung-hong crafts a satisfying exercise in tension and domestic horror, one which he hasn't been able to match since.
Return Engagement (1990, Hong Kong) – Before Chow Yun Fat was Chow Yun Fat, there was Alan Tang. An actor who had been around since the mid-60's, Return Engagement would be his 4th to last screen appearance, and it's a good one. Playing a gangster searching for his daughter in Hong Kong, after spending 10 years in a Canadian prison (never mind that the daughter is now 18, despite being 2 at most when he was jailed, it's HK cinema after all!), director Joe Cheung crafts a surprisingly effective drama with the material. However everything is thrown out of the window for a hilariously OTT bullet riddled finale, the type that HK cinema of the time excelled in, as Tang and Andy Lau take on a pre-Full Contact psychotic Simon Yam.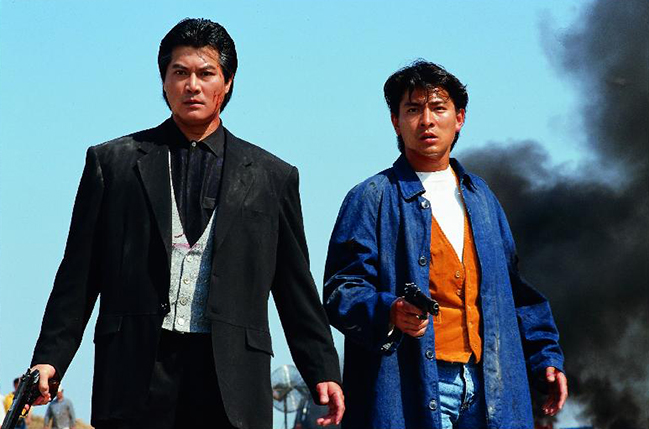 Brotherhood aka Code of Honour (1987, Hong Kong) – Half the reviews on the net for this one, ok, make that almost all, tend to focus on the fact that it's marketed as a Chow Yun Fat movie, despite the fact he's only in it for 5 minutes at most. Get past the false advertising, and you're left with a gritty HK gangster flick that relies more on fists and feet than its bullet riddled heroic bloodshed brethren, with Law Wai starring as the adopted son of an aging triad leader trying to go straight. Featuring a number of brutal beat downs (including a wince inducing use of a fork), and a particularly intense performance by Dick Wei in a rare good guy role as a determined cop, what you're left with is an underappreciated gem of 80's triad goodness.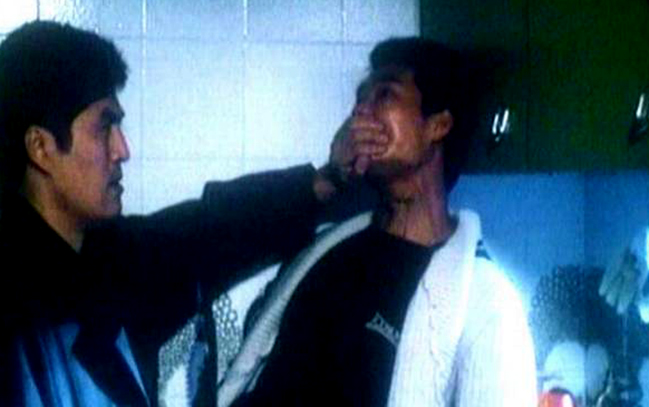 Suddenly in the Dark (1981, South Korea) – A genre bending piece of early 80's Korean cinema, Suddenly in the Dark on the surface announces itself as a horror movie, as a well-to-do couple take in a housemaid whose parents died in a fire. However when it's revealed the maid is the daughter of a shaman, combined with a creepy wooden doll she carries around, the wife begins to question her true motives, suspicious that she's out to seduce the husband. Frequently veering into the territory of psycho-sexual thriller, Suddenly in the Dark offers a snapshot of everything modern Korea was afraid of at the time, as the traditional shamanism it saw as a remnant of the past proved it couldn't be buried so easily.
As promised, this year we have a bonus entry for the Worst Movie Watched in 2017, and the proud recipient of the award goes to –
Kung Fu Yoga (2017, China) – Only the second movie to receive a 1/10 rating in my tenure of writing for COF (the first, for those wondering, was Steven Seagal's Contract to Kill), Kung Fu Yoga is the very definition of an unwatchable mess.  Stanley Tong's first movie in 12 years shows he's clearly forgotten how to direct (some would argue he never knew to begin with), as we have to endure a 62 year old Jackie Chan eyeing up Bollywood actresses, running away from a variety of CGI animals, and extolling the virtues of the Chinese government. Featuring very little yoga, but plenty of banter about how China and India are very alike and should be good friends, Kung Fu Yoga is the cinematic equivalent of an elephant standing on your crotch for 2 hours.
That's a wrap for this year, so here's hoping 2018 provides as much viewing goodness as its predecessor, both in terms of new releases and unearthed classics. For now though, from the crew at COF we'd like to wish everyone a healthy and prosperous year ahead, and thanks for your continued support.