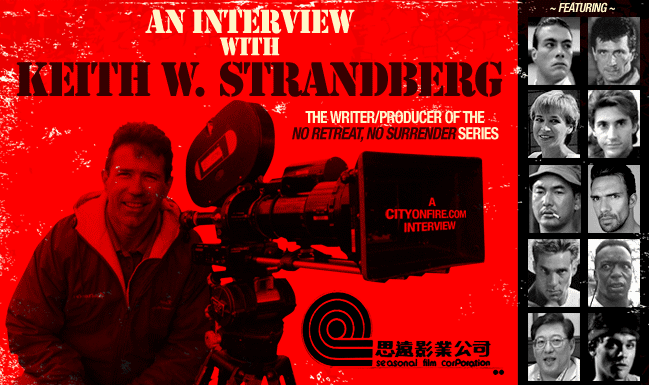 In 1985, Hong Kong's Seasonal Film Corporation, a company that was responsible for making Jackie Chan a star with 1978′s Drunken Master, started producing American productions that blew viewers away; particularly, those who wanted the flavor of world-famous Hong Kong action.
Ng See Yuen, Seasonal Film's founder, handpicked an aspiring writer named Keith W. Strandberg to produce a screenplay to No Retreat, No Surrender, a film that went on to become a cult classic, spawned two sequels, introduced Corey Yuen's groundbreaking choreography to Hollywood and jump-started the career of Jean-Claude Van Damme.
In addition to screenwriting, Keith also started producing movies. Some of the titles under his belt include No Retreat, No Surrender 3: Blood Brothers, The King of the Kickboxers, American Shaolin, Superfights and Bloodmoon.
In this in-depth interview, Keith talks the films' stars, interesting on-set incidents and much more! He even mentions a possible No Retreat, No Surrender remake. Enjoy!
---
How exactly did you hook up with Ng See Yuen's Seasonal Films Corporation?
When I was directing tour groups of Americans through mainland China in the early '80s (my major in college was Chinese language and literature), I decided to contact movie studios there to work s a writer. I had established sort of reputation as a martial arts writer by this time (1984), and I thought that my background, combined with my fluency in Chinese, would be worthwhile to a company.
Wrong, again. I called every studio in Hong Kong, and they all hung up on me. Persistent (I'm nothing if I'm not persistent!), I kept calling, now shifting to the independent producers, and Seasonal Films.
Luckily, I had done a little research, which told me that the President of Seasonal Films, Ng See Yuen, was from Shanghai. I knew that if I could get to him, I could speak to him in Mandarin Chinese, not the Cantonese dialect that most Hong Kong Chinese speak (which I didn't then, and still only speak a smattering of now). So, I dialed Seasonal Films, and braced myself for the inevitable hang up. And, sure enough, even though I had gotten through to Mr. Ng, he was just about ready to hang up on me, telling me that he wasn't interested and had no time.
Before he could hang up, however, I switched into fluent Chinese, and that caught his interest. He ended up inviting me over to his office, screening several pieces of old and new movies for me, and we talked for almost 2 hours. By the time I left the Seasonal Films offices, Mr. Ng and I had a handshake deal that if Seasonal Films ever decided to do movies for the American audience, I would be the one to write the screenplay.
Then, I went back to the US, got a job as a Karate instructor and program manager at a local sports complex, and didn't hear from Seasonal Films or Mr. Ng. I sent a few letters, made a few overseas calls, but it looked like the idea of getting involved in the movies was going to die stillborn.
Then, one day when I was working at the sports complex, and I got a call from Mr. Ng. I got on the line, heard his voice and heard what he was saying: "Come to Hong Kong. We're going to do the US movie, and you're going to write it!"
With the limitless understanding and support of my wife at that time, Carol, I quit my job and headed for Hong Kong, notebook in hand. When I got there, we immediately went to work writing an outline of the story, and then I went back home to write the script.
I remember quite clearly my meeting with Seasonal Films before I left to come home and write the script. Mr. Ng knew I was a writer, but still he asked me if I knew how to write a script. I said sure, no problem. He gave me a couple of sample scripts to look through, anyway, but I assured him that I was a pro — and that there was nothing to worry about.
On the plane ride home, I panicked. I didn't know how to write a script. I had never SEEN a script before he handed me the sample ones. I had seen plenty of movies, sure, but could I write one? Who knew?
Tell us about your first script?
Before I sat down at the typewriter (this was before widespread word processors and personal computers, remember), I told myself the same thing I said before writing my first article for KICK: "You can do this! And, you can do it equally as poorly as everybody else out there!"
I wrote that script, and even though the first draft of the script was more of a novel than a script (it was about 200 pages long!), we went on to make the movie from that script, and it was hugely successful.
That movie was No Retreat, No Surrender, the film that launched the career of Jean Claude Van Damme and started a resurgence of interest in martial arts films.
No Retreat, No Surrender is no great masterpiece (in fact, if we could make it again now, I think we could make it a very good, mainstream movie), but it captured people's imagination. It got a widespread theatrical release, and played all over the world. I still have people come up to me to tell me that No Retreat, No Surrender is their favorite movie of all time. I find that hard to believe, but it makes me feel good all the same.
When I go back and read that script, I shake my head at how naive I was. Luckily, I was also one of the assistant directors on the set every day, so I saw the changes that had to be made, and I quickly understood why some things worked and some things certainly and undeniably didn't. It was excellent and unparalleled on-the-job training, and it was probably the best thing that could have happened to me.
What was it like working with Kurt McKinney, Van Damme, Corey Yuen, Tim Baker and Kim Tai Chung?
When we were casting the lead roles for No Retreat, No Surrender, we held an open casting call on the lot of Raleigh Studios in LA. We expected to see about 30 or 40 people, and were totally unprepared for the hundreds of people that showed up. They were all lined up outside the building, standing in the hot sun.
We had put in an ad for several very specific types of people, mostly young, but the line outside was all different kinds: old, fat, balding, etc. Very few of the people waiting outside were right for the parts we were casting, and we defi­nitely didn't have time to see everyone that was waiting, so I was nominated as the person who would weed out the undesirables, and choose the people to come into the office.
What a job, and what a responsibility! I walked up and down that line, looking at the people and trying to keep in mind that I couldn't feel sorry for them — I had to just choose people based on how they looked — something that I had been taught not to do most of my life!
It was probably one of the toughest jobs I've ever had to do in the movie business — I felt sleazy as I picked the people we wanted to see, and the looks of disappointment on the faces of the ones I didn't pick really got to me.
This is the one side of the business I don't like — having to choose one person over another. In a perfect world, everyone should get the parts they want… it just doesn't work out that way.
I remember Jean Claude being a super guy. He was always friendly, and always had a smile on his face. He was hungry back then, and needed the work and the opportunity to be in a feature film, so he was very appreciative of the part that we gave him. And, he's been able to turn it into a hugely successful career.
We knew that Jean Claude had something, which is why we signed him to a two picture contract. It's a shame for my career that he broke that contract, or I'd probably still be working with him.
I've heard horror stories about the way Jean Claude is on the set these days, but when I knew him I thought he was the perfect gentleman. He was always on time, always ready to give 100%. He was a joy to work with, and I hope he continues to be that way.
Kurt McKinney and I have stayed very good friends, talking from time to time, and when I created and ran the Action Film Camps, along with Keith Vitali, he often came as a guest instructor. I have tremendous respect for him. He went from No Retreat, No Surrender to becoming a soap opera star, while doing movies in between.
Corey Yuen and I get along great. He has a great sense of humor and is so very talented, and no nonsense.
Tim Baker was a great guy. A very good martial artist and very appreciate of his chance with the movie. Yes, he did get hit by Van Damme on the set of No Retreat, No Surrender and I think he testified against Van Damme regarding the injury to the guy on Cyborg.
Kim Tai Chung was a pleasure to work with, but it was difficult because he didn't speak ANY English nor did he speak Chinese, so we had an interpreter that translated everything for us. We had to devise a way to have him say Korean words that looked like he was speaking English, so that we could dub him into English later. It was a challenge, but he was a good sport about it. And he did a great job with the mannerisms and movements of Bruce Lee.
How exactly did you discover Kurt McKinney and Van Damme?
Kurt McKinney came in through our casting agent, as he was a trained actor who just happened to be a great martial arts fighter. When we saw him, we knew that he had the complete package, which is so rare in our business. Usually we have to make a compromise, take a better actor and a worse fighter, or vice versa. With Kurt, he had both.
As for Jean-Claude Van Damme, I picked him out of the line of people at the open casting call at Raleigh Studios in LA. I picked him and two other guys, then when he went into the casting, the producers and Corey Yuen picked him. He has always been a very pretty fighter and he looked great in No Retreat, No Surrender.
Another note about castings — EVERY actor says they know martial arts, but it's the rare actor who has any skill at all. I've been at this a while, so I can usually tell by the first few moves whether someone is any good. With guys like Keith Vitali, Billy Blanks and Keith Cooke, we knew right away that they were fantastic fighters, after a few moves, really.
Was No Retreat, No Surrender 2 originally supposed to be a direct sequel? If so, what was the "continuing story" originally supposed to be? Was Jason Stillwell and Ivan Kraschinsky the Russian really going to return?
No, No Retreat, No Surrender 2 was originally a separate film. Because Seasonal Films had two pictures contracts with Jean Claude and Kurt, they decided to put them into this picture as well. We started work on No Retreat, No Surrender 2 (which was originally called Raging Thunder before the breakout success of No Retreat, No Surrender), so when it was finished, Ng See Yuen decided to call it No Retreat, No Surrender 2. For a time, I thought every movie I wrote and produced would be called No Retreat, No Surrender. At one point, I toyed with the idea of writing a movie called No Retreat No Surrender Never Again.
I was not very involved with No Retreat, No Surrender 2 other than to write the script. Ng worked with Roy Horan, the Seasonal Films salesman, who wanted to produce and write. I was unhappy with the changes made to my script (the original script was about Loren's character coming of age – he was a real innocent traveling in Thailand) and stepped away from the project. I was not on location and didn't work much on the film after filing my script. I went to the premiere in LA and was shocked at the wholesale changes and the weakening of the story, and told Ng that if Roy Horan was going to work with Seasonal Films, then I wasn't going to. I went on to make several more pictures with Ng.
Any more comments on Roy Horan?
My parents told me if I don't have anything nice to say about someone, don't say anything.
What's the reason Van Damme or Kurt McKinney didn't return?
No Retreat, No Surrender 2 was to be the follow up to the first movie, using both Kurt McKinney and Jean Claude Van Damme, who had helped to make the first movie so successful. The only problem was: neither of them showed up for work.
No Retreat, No Surrender 2 was the movie with which I wasn't intimately involved. I wrote the script, but I didn't go on location. Roy Horan was the producer of the film, and he eventually ended up taking script credit as well — and that's what I took exception to. So, all I know is that I got a frantic call from the President of Seasonal Films to tell me that neither Kurt nor Jean Claude showed up in Thailand for the first day of shooting.
As it turned out, Jean Claude got the part for Bloodsport so he broke our contract to make that picture, and Kurt decided that he didn't want to work for Roy, so he stayed away. It really hurt the company at the time, because we had a complete crew in Thailand waiting for the lead actors, but they scrambled and were able to find replacements: Loren Avedon for Kurt's role, and Mathais Hughes for JC's. Both of these actors have gone on to make a number of very good movies, but neither has achieved the level of stardom that Van Damme has.
How was Loren Avedon discovered?
As I wasn't directly involved with No Retreat, No Surrender 2, I don't really know the "creation story" of how Loren was discovered. He is a fantastic on-screen fighter, and that's why Seasonal Films signed him right away.
So you didn't get to work with Cynthia Rothrock, Jang Lee Hwang, Matthias Hues or Max Thayer?
Cynthia and I are both from Pennsylvania, so we have a natural connection. We just hit it off right from the start. Even though I didn't work on No Retreat, No Surrender 2 while it was filming, we became friends and remain so to this day. She is such a wonderful person – so warm and friendly and caring. And she is a fantastic talent.
I just recently met Matthias Hues at an event where a bunch of action movies stars were gathered and we got along fantastically. He is such a gentle giant and it was a pleasure to hang out with him. Max Thayer, I think I met him at the premiere of the movie in Hollywood, but never got the chance to know him or Hwang Jang Lee.
By the time you got to No Retreat, No Surrender 3, Corey Yuen was no longer in the director's chair. Instead, Lucas Lowe was brought it. Who exactly was Lucas Lowe?
Lucas Lowe was a rising talent that Ng discovered. Corey Yuen is a fantastic action director, but Ng and I were looking for someone who would focus on the story and the acting more (at that time, Corey didn't speak English very well). Lowe had a good eye, but he was not very pleasant to work with. He had a huge ego and was not very organized, so we ended up wasting quite a bit of time.
Here's an example of the trouble I had with Lucas Lowe:
One of the most maddening parts of filming No Retreat, No Surrender 3 was the director's lack of preparation, and his penchant for wanting to change scenes at the last minute. Lucas Lo (spelled "Lowe" for The King of the Kickboxers and American Shaolin) was hired at the last minute to direct No Retreat, No Surrender 3 (aka Blood Brothers), and he came onto the set without the benefit of having time to story­board everything (as is his custom), and it seemed throughout the production that he was flying by the seat of his pants most of the time.
And, that meant playing it fast and loose with the dialogue, which really irked me. I always spend an inordinate amount of time on each scene, carefully crafted them to make sure that the correct words are chosen, and that each character's dialogue suits his or her personality. But, Lucas would come in for the day, and I'd find out that he wanted 3 pages of dialogue cut to 3 lines for the next shot.
It was maddening, and it wasn't a way to go about shooting a movie.
I remember one particular scene in a cemetery. The Donahue boys were burying their father, and were to have a huge confron­tation scene as Will left prematurely. It was about 2 pages of dialogue, but it was important, character-developing stuff: and Lucas wanted it cut. At the last minute. He wanted only a couple of lines while Will got into his car.
And, the most maddening part was that the only reason he wanted it changed was that we were running out of time. Lucas had burned most of the day shooting "extras", and we were forced to fit the scenes with the lead actors into a couple of hours. This is a standard fault of Lucas, and I've seen it in every movie we've worked together — he plays around with the location, the extras, etc. and leaves the real work for last — the scenes with the lead actors, where the story gets told.
I was pissed! And, I almost walked off the set and told him to take a flying leap, but I knew I'd just be hurting the movie. It was my responsibility as co-producer and writer to ensure the quality of every foot of film, and I couldn't trust Lucas to get it right without me–even if he wanted it changed.
So, I took the actors off to the side, explained the situation and how angry I was, and then together we devised a way to change things around so that it all still worked, and the characters come off OK.
The scene that ended up in the movie works OK, but I still think the original scene was stronger. From that point on, I warned Lucas that he couldn't do that again — if he wanted changes made, we'd talk about them, and I'd have time to do them correctly.
I'm not a big fan of improvisation — too many small nuances and plot points are imparted in every scene, and everything has to match, to change things around at the last minute. Besides, I don't think that last minute inspirations are necessarily better than finely crafted ideas — ideas that have been worked on for months.
Too many times, compromises have to be made on a film set. But, the worst thing to do is to compromise to make it easier — film making is supposed to be hard work!
When Corey Yuen was no longer directing, who stepped in for the fight choreography?
Yes, Corey Yuen, who is a choreography genius, did the action for both No Retreat, No Surrender 1 and 2, and he choreographed the Keith Cooke fight scene (where he saves Loren) in The King of the Kickboxers and a couple of fight scenes in American Shaolin. For No Retreat, No Surrender 3, The King of the Kickboxers, American Shaolin and Bloodmoon, it was Tony Leung, a fantastic choreographer.
How much choreography or input was done by the stars (Loren, Vitali, etc.) themselves?
Very little. Usually, the fight choreographers would meet with the actors, see what they do best, and adapt the scenes and techniques to make them look as good as possible. It was their job to improve on their abilities.
I remember a fight scene in No Retreat, No Surrender, where one of the fighters was changing every move Corey Yuen gave him to perform. Corey would say "Do it this way," and the guy, who was a fantastic fighter but didn't know anything about making movies, would say, "How about if I do it like this?" By the third or fourth time, Corey looked and me and said, in Chinese, "Let him choreograph the scene then," and stepped out of the ring. The fighter quickly got the message, when the entire cast and crew was staring at him, waiting, that he was a pleasure to work with from that point on.
That was what made Keith Vitali so great, because the fight choreographer would ask him if he could do something and he would say, with a smile, "I can do anything." Once, during the making of Superfights, Keith has to perform one very intricate and difficult combination over and over for 48 takes! And he finished with a smile on his face.
Fighters like Keith VItali, Billy Blanks, Keith Cooke, Loren Avedon, Jerry Trimble, Gary Daniels, Darren Shahlavi and others were like dreams come true for the fight choreographers, because they could do just about anything, given them free reign to be as creative as possible.
The shooting of a fight scene is very hard, though. It's a complicated, complex process that seems to take forever (we used to call it "entering fight hell" because we never knew when we were coming out. Seasonal Films was known for its great fight scenes, so we would spend whatever time was necessary to get the fight right. For example, the final fight scene in Bloodmoon took 10 days to shoot.
What's it like hanging out with Keith Vitali?
Keith Vitali and I have become the best of friends. We got along extremely well and I have a huge amount of respect for his abilities. We play basketball, football, tennis and other sports together and we have a fantastic time. During the action film camps, which we established together, we would challenge all comers to basketball and we never lost.
Keith has such a great attitude, his catch phrase is "I can do anything," and it's true. He is a very hard worker and a pleasure to be around.
Here is a story from when I first met Keith:
Typically, before we start a movie, we'll arrange to have the fighters perform for the fight director and stunt men, so that they know what they are working with. Well, in the case of Blood Brothers, we took Loren and Keith to a small dojo in Tampa one night, two days before we were to begin shooting, and the fight director put them through their paces.
Alternately, Keith and Loren were asked to do various kicks, punches, hand techniques, throws, reactions, falls, etc., with a group of about 10 people, all of them from Hong Kong, watching.
It was a fun night — both Loren and Keith are accomplished martial artists, and they both throw extremely beautiful tech­niques. The fight director and all the stunt men were very im­pressed, and they were about to call it a night, anxious to begin filming in two days, knowing that they had a great deal of raw talent with which to work.
Then Loren made a huge mistake: even though they were very satisfied and impressed, he offered to do a double kick into the heavy bag (a flying side kick followed by a flying spinning side kick). The fight director heard this offer and just shook his head, saying that he didn't really need to see it. He had seen enough.
But, Loren insisted. And then he ran towards the bag, jumped up and did a very good kick, rocking the bag and landing on his feet.
Then, the fight director looked at Keith. "Can you do that too?" he asked. Keith looked at the bag, at Loren and then at the fight director. "I've never tried it, but I'm sure I could do it." This said, Keith was pretty much committed to trying the kick. He took a run and hit the bag with the first kick, hit the bag with the second kick and then hit the floor. Hard.
He landed on his wrist, and it immediately SNAPPED. Broken wrist. Hospital. Forearm cast.
I was stunned, as were the fight guys. In the space of one second, we had gone from a very promising movie with two great fighters as the leads to a movie-threatening injury! I remember standing in the hospital corridor talking with Executive Producer Ng See Yuen about what we were going to do. Could we re-cast the lead at this late date? Remember, we were starting filming in two days!
I went into the doctor's office with Keith to get an opinion of Keith's chances of continuing to work even with a cast, and it looked very grim. But, being a writer, my mind was working. I came up with an idea that we ended up using, and it worked very well.
Since the movie started with a big fight in a bank, with Keith saving a girl's life, it would make sense for him to get hurt during that fight. So, we designed it so that Keith would get shot in the wrist during that scene, and then he could be in a cast for the rest of the movie. We even added some dialogue into several of the scenes where other characters referred to the cast, making an essential part of the story.
It wasn't an easy sell to the powers that be, but it was far too late to do anything else. We worked through it, and ended up with a very good movie.
During the filming of the scene in the movie when Loren finds his father dead, and then Keith walks in, emotions between the two stars came to a head. They never really got along (I think Loren was threatened by Keith's championship experience), but it all came out during this scene.
Loren was bent on crying and being very emotional during this scene, even though the script didn't really call for it. I didn't want him to break down, but he was certain he knew how to play it. Rather than cause a big problem, and delay filming, I let him go, thinking that I could temper his acting while it was happening. The scene started, and progressed well, until Keith made his entrance, and together they had to deal with the fa­ther's body.
Keith rightly felt that it was important that he show his love for his father, but Loren was holding Joe Campenella in such a way so that Keith couldn't get to him. We tried to film it in several different ways, but each time it was apparent that Keith didn't have anything to do–he couldn't get to his Dad, and he wasn't supposed to console Loren.
Finally, Keith mentioned to Loren that he has to have something to do, and everyone got into the act. The DP came into the conversation, Lucas Lowe the director started talking, and I was putting my two cents in, while the dialogue coach was also there.
To be fair to Loren, it was a little bit overwhelming, but instead of dealing with hit intelligently and calmly, he just blew up. He screamed in this indoor pool, his voice echoing off the walls: "Everybody just get the fuck away from me!"
The entire place got deathly quiet, and all eyes were on Loren…and Keith. Keith was standing close to Loren, his fists balled and his body shaking with anger. He said in a very low voice, full of implied violence, "Tell me you're not talking to me."
Keith was ready to tear into him, and he could do it in a heartbeat. Keith is one of the best fighters I've ever seen, and he is always on top of his game. Even though he's long retired from competition, he can still mix it up with the best of them. I was almost looking forward to seeing the conflict between Loren and Keith. But, it didn't happen.
Loren immediately apologized and told Keith that he would never talk that way to HIM, he was just talking about everyone else. He smoothed things over with Keith, but Loren certainly didn't make a lot of friends on the cast or crew that night.
One of my favorite stories comes from when we were casting for No Retreat, No Surrender 3 down in Tampa. We had an "open call" for terrorists, and about 50 showed up, dressed to the nines in terrorist garb, sporting sawed off shotguns, machine guns, eyepatches, hunting knives, etc. We ran them through their paces, and were having a great time watching them perform in the rear yard of the casting agency.
On the street in front of the casting agency ran a pretty busy road, and it was a hoot to watch the drivers as they drove by do a double take at the action that was going on outside the agency.
At one point in the day, a woman got rear ended by a man on that street. The man got out of his car, in a rage, and started to brow beat the women, yelling at her at the top of his voice, threatening her with lawsuits and with physical violence.
Before you could say "assassination", the entire group of terrorists, weapons in hand, were walking across the street toward the macho man picking on the poor woman.
You should have seen the guy's face when he became aware of the terrorists! It was great! He immediately apologized to the woman, got back in his car and drove off as quickly as he could!
What was it like working on the set of The King of the Kickboxers?
I was not on the set for the filming of the first snuff film scene from The King of the Kickboxers, so I didn't catch the following gaffe:
This scene was set up to show a young fighter coming on to the set of what he thinks is a real movie. The director coaches him about trying to make it look real, and then the scene starts. As I had scripted it, the actor gets banged around a little bit, then stops the scene and tells the director that he's been hit. His line of dialogue is, "Hey, he hit me!"
Well, the fight coordinator decided to change the scene around a little, allowing the attackers to use weapons, and instead of getting hit, the actor gets cut on his hand and says "Hey, he hit me!"
Not exactly what you would say if you got cut on the hand, right? You might say "Hey, he cut me!" or "Hey, I'm bleeding!" or something along these lines, but not "Hey, he hit me!"
Still, this is what the actor said, and since I wasn't there, no one corrected him, and that's how it is on film.
What about Loren's co-star, Sherrie Rose?
I had written a topless scene for the character of Molly in The King of the Kickboxers, and during casting we were very up front with all the women we auditioned. There was going to be some nudity, and they needed to know that going in.
In fact, we told everyone that there was (limited) nudity, and advised the casting directors not to send women that wouldn't consider baring their breasts. The last thing we wanted was to choose someone, and have them decline because of the nudity. If they knew about the nudity from the start, we would only see women who were OK with it. I want to be very clear about someth­ing, however: we did not ask the women to shed their clothes during the casting. That would have been unethical.
We saw a host of actresses, and finally made the choice for one woman in particular, and signed her for the part of Molly. About a week before she was due to arrive in Thailand, I got a call from our casting agent in Hollywood–the actress wasn't coming. She, at the last minute, had second thoughts about the nudity involved, and pulled out. Exactly the situation we were trying to avoid!
There we were, in Thailand already, about a week into film­ing, without a lead actress. Scrambling, I remembered an actress that we had worked with in Tampa on No Retreat No Surrender III: Blood Brothers, Sherrie Rose. Sherrie is a very good actress, and was a former Playboy Playmate, so she fit perfectly: good talent and a willingness to take off her top.
I called her and made the deal, and she got on a plane and flew to Thailand. She had spent a couple of months in Thailand filming another movie a year before, so she was familiar with the place, and had some friends there. Everything seemed to be work­ing out perfectly: she fit in well with the cast and crew, she did a good job in her scenes, and everyone was pleased with the choice.
That is, until the time came for her to take her clothes off for the camera. The scene itself was pretty innocuous: Molly shows up while Jake is in the bath tub, and proceeds to slip her clothes off and join him in the water.
It wasn't really gratuitous nudity, as it was integral to the scene and the relationship between Jake and Molly, and it went by very quickly. The night we were to shoot this scene came, we cleared the set of any unnecessary crew people, and prepared to roll the cameras.
And, Sherry started to protest. She didn't want to do the nudity. I explained to her that she had agreed to do it, and it was a condition of her employment. She still refused to do it.
I reminded her of her promise to do it, and her background (Playboy and all that), but it had no effect. She was in a good bargaining position: we'd already shot a couple weeks of footage, so replacing her would have been very hard, and very costly.
Finally, after about 45 minutes of pleading, arguing and fighting, the director had to promise that he would be very careful about what appears on camera, and she finally agreed to do what she had agreed to do a long time ago.
The scene went off without a hitch, and it goes by in "King" very quickly–it's actually a nice break from the violent action.
One night back in the USA, long after that confrontation with Sherrie, I was watching HBO's Tales From the Crypt and on comes an episode, with Sherrie Rose in a starring role. Interest­ed, I watched the whole thing, surprised to see the most graphic breast nudity I think I've ever seen — and all of Sherrie's breasts! We're talking close-up nipple shots, full chest nudity in most of the scenes… I was stunned! Here was the woman who complained about a shot that lasted at most 5 seconds baring her breasts for several minutes at a time!
That's Hollywood! Maybe the prestige of "Tales" induced her to take her clothes off.
What's Billy Blanks like?
While we were filming The King of the Kickboxers, in Thailand, I had the oppor­tunity to work out with Billy Blanks. I had been running and staying in shape, but I hadn't fought for a long time. Still, when we decided to throw some kicks together, I knew I had to take advantage of sparring with one of the greatest fighters of all time.
So, one afternoon on a rare day off in Kao Yai, Thailand, Billy and I went into one of the meeting rooms and started stretching, then throwing some kicks.
Now, I'm not a great fighter by any stretch of the imagination, but I can usually hold my own. I won some tourna­ments when I was a kid, and I was picked to represent the state of Ohio in fighting and kata when I was 17. So, how much better than I could Billy be?
Light years.
There might not even be a number high enough to describe the gap between his skills and mine. I felt like a white belt facing off with Billy. He was very kind, and didn't completely destroy me, but he was and still is an incredible fighter.
We fought for about 10 minutes, and the entire time I don't think I was ever in any danger of scoring a point. Billy could do anything at will, and it was a great humbling experience for me. He could have taken me out at any time during our sparring ses­sion, and I came to know what it feels to be completely out­classed.
How did you discover Reese Madigan, the lead of American Shaolin?
With the lead in American Shaolin, we did a whole bunch of castings and we needed someone who was a great actor and could fight, and we found Reese Madigan, who ended up doing a great job in the lead role. It took forever to find him. I originally wanted Jason Bateman and he was considering the role, but he would not shave his head, and he wasn't really a fighter. Luckily, we found Reese.
How about your experiences on American Shaolin?
American Shaolin was by far the hardest film making ex­perience I've ever had. There were many times when I wanted to quit, and the only thing that kept me going was my commitment to making a high quality film.
The director of the picture, Lucas Lowe, was out of control, and no one on the Chinese crew paid attention to the schedule. If we went over and didn't finish a scene we were supposed to, nobody cared. They actually liked it, because they were living in better quarters and eating better food than they would at home, so they weren't in a hurry to get things done.
It was a bad situation, and everyone was in a horrible mood. By July of the summer of 1991, I had been away from my family for 3 months, with no end in sight. Everything was taking twice as long as it should have, as it would have in the U.S., and I wanted out.
It all came to a head when we were in Feng Hwa, a little town that was the birthplace of Chiang Kai Shek. We were in the middle of nowhere, the food was horrible, the weather was hot and humid and oppressive, the lead actor was sick and hard to work with, and the hours were incredibly long (16 – 18 hours every day, sometimes 9 or 10 days in a row) and hard. I was missing my kids, my wife and just my life–but the movie wasn't done.
I was able to get through that period by concentrating on the task at hand, and taking it one day at a time, and I'm glad I stuck it out. We got a GREAT movie out of it, so my effort was not in vain. It was harder than anything I've ever done, and I don't know that I'd choose to do it again.
How about Keith Cooke?
Billy Blanks and Keith Cooke are true champions and they are the best to work with – they have already succeeded and really have nothing to prove, so there is very little ego involved.
Loren Avedon's contract ended with The King of the Kickboxers — what's the reason he didn't continue making movies with Seasonal Films?
Loren at the end of his contract became a little difficult to work with. He was demanding and thought he should be a bigger star than he was, so negotiating with him was out of the question. Also, when you do three movies together, it's time to move on and do other things.
Experiences working with Gary Daniels and Darren Shahlavi?
Gary Daniels and I had met in LA while I was writing Bloodmoon and got along really well. Gary is a very good actor, takes his craft very seriously, and he is a fantastic fighter, so once I proposed him to Ng See Yuen, it was an easy deal to make. Also, Gary had a name in action, which helped us sell the movie. Chuck Jeffreys, Gary's co-star, is a great friend of mine and one of the most talented on screen fighters and choreographers I've ever seen. He and Gary together were just marvelous.
Gary Daniels became a very close friend while we were making Bloodmoon. He is a great martial artist and takes his art, and his work, very seriously. I have a tremendous amount of respect for Gary and I wish he had become a bigger star. He works SO hard, he deserves all the success he has gotten. He, Keith Vitali and I were all far away from our families, so we'd hang out every day off, playing tennis, going to the beach and more. Tons of fun.
Darren is so talented, and for the most part he is self taught regarding movie fighting, which is MUCH different from real fighting. He is also quite a good actor, which he hasn't been able to showcase in some of the Hong Kong films, where they just want him to be a bad ass and yell all the time.
Out of your first 4 films with Seasonal Films, what's your personal favorite?
My favorite story is American Shaolin, but I think the best movie we made together was Bloodmoon. We filmed that in North Carolina, Keith Vitali and I worked together producing it, we became great friends with Gary Daniels and Darren Shahlavi, and Chuck Jeffreys, who was already a good friend, was one of the stars of the movie, so it was a fantastic experience.
For the future, I am working with Chuck Jeffreys on an action/comedy project called Enter the Numb-Chuck, and trying to put together interest in a No Retreat, No Surrender remake. Keep watching for the trailers.
For more about No Retreat, No Surrender 2, No Retreat, No Surrender 3: Blood Brothers and King of the Kickboxers, please read our interview with Loren Avedon.