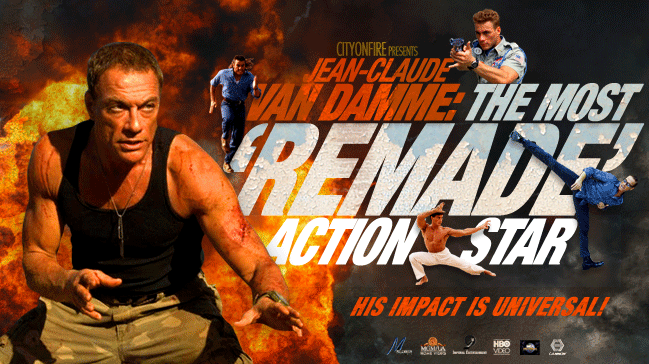 Love him or hate him, there's no denying that Jean-Claude Van Damme is a trendsetter when it comes to action and martial arts movies. He's also a name that helped build franchises that gave birth to endless money-making sequels and prequels. In the late '80s/early '90s, films like Bloodsport and Kickboxer rejuvenated a genre that was practically in limbo during the final stages of the Chuck Norris and Ninja-craze era.
Back then, it was Van Damme's popularity that opened the Hollywood doors to names like Don "The Dragon" Wilson, Olivier Gruner, Dale 'Apollo' Cook and Loren Avedon. It was because of films like Bloodsport and Kickboxer that copycat titles (i.e. Bloodfist, King of the Kickboxers, American Kickboxer 1-2 and Raw Target) were profit makers on video rental shelves. Even the great Roger Corman will tell you he was riding the waves of Van Damme's success when he developed the Bloodfist franchise for Wilson.
Van Damme's influence can only be compared to the Bruceploitation explosion of the '70s (Bruceploitation is a term used to describe the Bruce Lee lookalike films that dominated grind house theaters; i.e. Bruce Li, Bruce Le, Dragon Lee, etc). Whereas, Bruce Lee knock-offs had the words "Fist," "Fury," "Enter," "Dragon" and "Game" in their titles; Van Damme's had the words "Blood," "Kickboxer," "Target" and "Impact" in them.
And let's not forget about Double Impact (1991), a film that most likely gave Jackie Chan the inspiration for Twin Dragons (1992). Ironically, Twin Dragons was made during a time when Hollywood studios were getting ideas from Hong Kong action films, which proves that Van Damme's impact (no pun intended) was not only game-changing, it was a world-wide phenomenon.
Even towards the mid/tail-end of his successful film career, Van Damme was bringing in acclaimed-Hong Kong filmmakers years before most studios caught on. He brought in John Woo for 1993's Hard Target, Ringo Lam for 1996's Maximum Risk and Tsui Hark for 1997's Double Team and 1998's Knock Off. Ask yourself: What other western actor has worked with all 3 of these Hong Kong legends? (and this isn't even counting Corey Yuen for 1986's No Retreat, No Surrender). He even helped launch the career of future Blockbuster-maker Roland Emmerich (ID4, White House Down) with 1992's Universal Soldier.
Ever since the unorthodox, but highly acclaimed J.C.V.D. in 2008, Van Damme has been walking on a comeback trail. Although he never hit that "John Travolta/Pulp Fiction" peak, his career has definitely been well-balanced for the last 5 years.
2012's The Expendables 2 gave him a co-starring role in a major Hollywood theatrical release alongside legendary names like Stallone and Schwarzenegger; he's also been in a string memorable commercials for Coors Light, Go Daddy and most recently, Volvo. Sure, he's still pumping out straight-to-DVD movies, but heck, so is Bruce Willis and Robert De Niro. For the most part, Van Damme's current output of films maintain a certain quality and entertainment value that fans are proud of (let's pretend Derailed doesn't exist).
Whether they're new or old, Van Damme movies are both marketable and iconic. It's no wonder why many of his films spawned endless Van Damme-less sequels (Timecop 2, Timecop TV series, Kickboxer 2-6, Bloodsport 2-3, Universal Soldier II: Brothers in Arms and Universal Soldier III: Unfinished Business) relying solely on the film's titles to make a quick buck.
Today, many of his movies are currently being developed for remakes and/or reboots, as well as sequels. After much thought and a good chunk of research, it has come to my attention that Van Damme is currently the most 'remade' action star in the world.
Let's examine the Van Damme films that are/were in the process of being remade:
No Retreat, No Surrender (1986): This cult favorite was Van Damme's debut martial arts film. Under the direction of Corey Yuen (Transporter), it introduced Hong Kong-style choreography to U.S. audiences. Not only did it jump-start Van Damme's career, it also sparked a newfound interest in martial arts films.
Even though Van Damme was only in the film for a total of 20 minutes, the public took notice. Keith W. Strandberg (read our interview with him), producer of the No Retreat, No Surrender series, expressed interest in remaking the original No Retreat, No Surrender. If the remake happens, it'll be interesting to see how they pull off portraying Bruce Lee as a ghost without receiving a lawsuit from the Bruce Lee Estate. Regardless, we're crossing our fingers for this one.
Bloodsport (1988): Newt Arnold's Bloodsport is the movie put an expiration date on the two N-words: Ninjas and Norris. At the time, it was a groundbreaking, brutal and lived up to its title. To put it simply, it was my generation's answer to 1973's Enter the Dragon. The fact that it was supposedly based on true events (that's another story) made it even better. Bloodsport also reintroduced the world to the legendary Bolo Yueng (Enter the Dragon) and co-starred future Academy Award-winner Forest Whitaker. The original was followed by 1996's Bloodsport 2, 1997's Bloodsport 3 and 1999's Bloodsport 4: The Dark Kumite – all cheapie sequels starring Daniel Bernhardt (The Matrix Reloaded).
In 2013, it was announced that Phillip Noyce (Salt) was attached to helm a Bloodsport remake, but somewhere along the way, James McTeigue (Ninja Assassin) stepped in. According to sources, the remake will explore the life of 21st century mercenaries as they collide with the underground world of Brazilian Vale Tudo fighting. The remake is currently stuck in development hell.
Cyborg (1989): Along with 1982's The Sword and the Sorcerer and 1992's Nemesis, Cyborg is considered to cult director Albert Pyun's finest movies. It made enough money to spawn a 1993 Van Damme-less sequel starring Elias Koteas, Jack Palance, Billy Drago, Karen Sheperd and a then-unknown Angelina Jolie. Then came 1995's Cyborg 3: The Recycler, with Khrystyne Haje, Zach Galligan, Richard Lynch and Malcolm McDowell.
In 2011, it was announced that Pyun was developing a Cyborg remake. For whatever reason, the remake morphed into a prequel called Cyborg Nemesis (aka Cyborg: Rise of the Slingers). The movie, which is currently stranded in post-production phase, stars Kevin Sorbo, Joei Fulco, Dina Meyer, Michael Paré and Sasha Mitchell. Due to Pyun's health issues and retirement, the release date of Cyborg Nemesis is unknown.
Kickboxer (1989): Mark DiSalle and David Worth's Kickboxer holds a special place place in my childhood. After all, it was the first Van Damme movie I ever saw on the big screen. I can vividly remember me and my friends "kickboxing" each other while leaving the theater. It was a moment of excitement that can only be compared to kids pretending to have lightsabers in their hands after just having watched Star Wars in 1977. Following Kickboxer was a slew of Van Damme-less sequels starring Sasha Mitchell (one starred Mark Dacascos).
Currently, a Kickboxer remake, titled Kickboxer: Vengeance, is wrapping up with newcomer Alain Moussi (read our interview with him) in the lead. In addition, WWE star Dave Bautista, UFC welterweight champion Georges St. Pierre, former MMA star Gina Carano and the late Darren Shahlavi are also part of the cast, with filmmaker/actor John Stockwell (In the Blood) at the helm.
Additionally, Albert Pyun will be directing Kickboxer: City of Blood, which will serve as a follow-up to Sasha Mitchell's Kickboxer saga. Indonesian actress Julie Estelle (Macabre), who's mostly known for playing Hammer Girl in The Raid 2, is attached as the film's leading lady. As with Cyborg Nemesis, Pyun's health condition may have brought the project to a temporary halt.
Lionheart (1990): It doesn't stop there with Albert Pyun. Back in 2014, the filmmaker had this to say about a potential Lionheart remake: "I've been approached about directing a remake of Lionheart with Van Damme by the rights holding distributor. Not sure if I will do this as it doesn't seem to be a film needing a remake. I guess I'd changed the Los Angeles setting to Hong Kong, but I am not sure it fits in with what I do. But I told the rights holder I will consider it depending on how excited JCVD is about it. And if I can make it with my vision of it." The remake was never brought up again and probably for good reason. As it stands, Sheldon Lettich's Lionheart – also known as A.W.O.L. or Wrong Bet – is considered, by many, Van Damme's best movie.
A couple of a years later, Robert Clouse (Enter the Dragon) capitalized on Lionheart's success by bringing in Bolo Yeung (Bloodsport) and Richard Norton (Future Hunters) aboard for the similarly-titled production, Ironheart. One can only imagine how many times some kid's parent brought home the latter instead of the Van Damme movie, which is exactly what the producers wanted.
Universal Soldier (1992): Directed by Roland Emmerich (ID4) and written by Dean Devlin (Godzilla), this 1992 sci fi/action flick was Van Damme's answer to 1984's The Terminator. It also featured fellow action star Dolph Lundgren (Skin Trade). Because of its popularity, Universal Soldier spawned 1999's Universal Soldier: The Return (with Bill Goldberg and Michael Jai White), 2009's Universal Soldier: Regeneration (with Lundgren and Andrei Arlovski) and 2012's Universal Soldier: Day of Reckoning (with Lundgren, Scott Adkins and Andrei Arlovski). Dare I mention the Van Damme-less, made-for-TV sequels: 1998's Universal Soldier II: Brothers in Arms and 1999's Universal Soldier III: Unfinished Business; or The Asylum's 2007 Universal Soldiers.
In 2011, there were talks of rebooting Universal Soldier into a TV series (a la Terminator: The Sarah Connor Chronicles) by Allen Shapiro and Craig Baumgarten, who produced the original. Obviously, the TV series never came to fruition, but there's always the future.
Timecop (1994): Unlike his '90s rival, Steven Seagal, Van Damme toyed with different genres and characters, hence, Peter Hyams' Timecop, the peak of his career. This live-action adaptation of the Dark Horse comic book was the perfect mix of sci-fi and action. It's best describe as H. G. Wells meets Back to the Future with martial arts. Branching out of the film's popularity was the 1997 Timecop TV series and 2003's Timecop: The Berlin Decision, starring Jason Scott Lee (Dragon: The Bruce Lee Story).
The original Timecop still holds up to this day and is considered Van Damme's most polished film. With that said, a remake is currently in development. No director or star is attached, but the latest news is producers of the remake have hired Mark and Brian Gunn (Journey 2: The Mysterious Island) to write the script.
Street Fighter (1994): I know this is pushing it, but I'd be lying if I told you that Van Damme wasn't the first action star to appear in a live-action adaptation of Capcom's Street Fighter series (he was also the main inspiration behind Midway Games' Mortal Kombat). Sure, it was Wong Jing and Jackie Chan that first spoofed Street Fighter in 1992's City Hunter, but Van Damme's was an official, full length feature. Despite being written directed by the talented Steven E. de Souza (screenwriter of films like 48 Hrs, Commando and Die Hard), the film was panned by critics and fans alike. But that didn't stop it from being one of Van Damme's highest grossing films of all time.
In 2003, there were talks of a Street Fighter sequel with Van Damme (Guile) returning along with Damian Chapa (Ken) and Byron Mann (Ryu). Both Dolph Lundgren and Holly Valance (replacing Kylie Minogue as Cammy) were also attached. Unfortunately, the sequel never saw the light of day.
Instead, 2009's Street Fighter: The Legend of Chun-Li was born. It starred Kristin Kreuk, Chris Klein, Robin Shou, Michael Clarke Duncan and Hong Kong legend, Cheng Pei-pei (Come Drink with Me). Another live-action reimagining came in the form of 2014's Street Fighter: Assassin's Fist, a web series that was later edited both as a TV series and feature film. With the new Street Fighter V video game just around the corner, we're bound to see more live-action Street Fighter projects.
So there you have it. Cityonfire.com officially declares Van Damme as the most 'remade' action star. We're obviously jumping the gun since there hasn't been a single Van Damme remake that has even been released, but I'll delete this article if someone can give me the name of another action star who's been the subject of so many remakes, reboots, sequels and copycat titles.
Until then, keep logging on to Cityonfire.com for all the latest news and developments regarding all of the titles discussed in this article.
Note: Since this article was originally published back in August of 2015, there have been two more titles that further prove the legitimacy of this article: A Hard Target "sequel", which was more of a standalone remake than anything; and the upcoming Kickboxer: Retaliation, the sequel to Kickboxer: Vengeance.