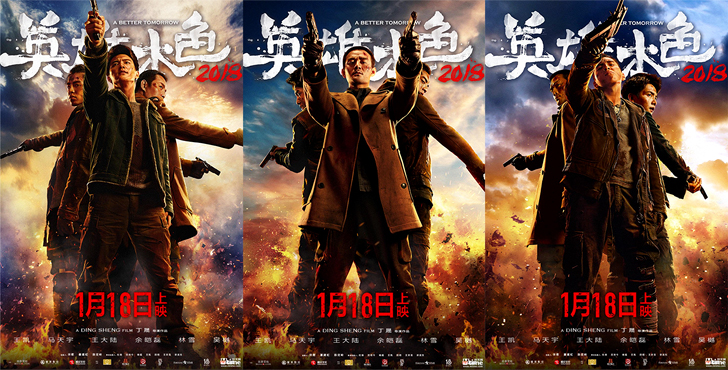 If Song Hae-Seong's 2010 Korean remake of A Better Tomorrow didn't quite do it for you, then get ready for another variation of John Woo's 1986 seminal gangster classic. Ding Sheng – the acclaimed director of Little Big Soldier, Police Story 2013, Railroad Tigers, and Saving Mr. Wu – is delivering A Better Tomorrow 2018 (aka A Better Tomorrow 4) to theaters on January 18, 2018 (via AFS).
According to Variety, Sheng's film traces the journey of a former smuggler who attempts to start his life anew after his release from prison and repair his relationship with his estranged brother. But that is not counting on gangland betrayal, a botched drug deal and a devastating family tragedy.
A Better Tomorrow 2018 stars Darren Wang (Railroad Tigers), Ma Tianyu (Surprise) and Wang Kai (Railroad Tigers), who will be playing Mark "Gor" Lee (the character made famous by Chow Yun-fat in the original). Also along for the ride are Lam Suet (Three), Wu Yue (Police Story 2013) and Yu Ailei (Black Coal, Thin Ice).
Watch the film's Latest Trailer below: