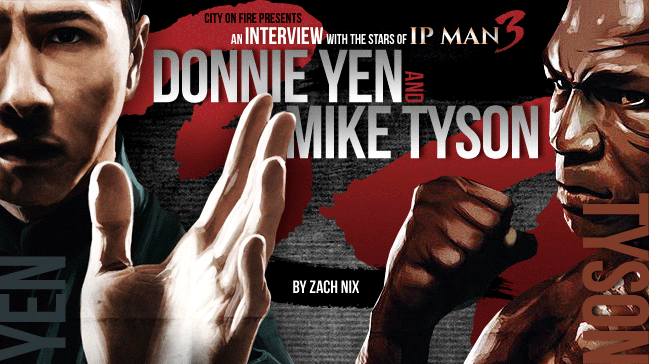 I had the pleasure of participating in a round table interview amongst other journalists with the stars of Ip Man 3, Donnie Yen and Mike Tyson, at a press junket in Los Angeles, California. With only a limited amount of time at our disposal, me and the other journalists got to ask about two to three questions each to the actors. Along with myself, the other journalists present were Rachel Lee from Korea Daily, Greg Lynch from Kung Fu Tai Chi Magazine, and Laura Sirikulvadhana from Nerd Reactor. Afterwards, we all had the immense pleasure of taking pictures with the two stars, an opportunity and experience that I will never forget.
---
ZACH NIX: Donnie, you and fight choreographer Yuen Woo Ping go back as far as films such as Drunken Tai Chi and In the Line of Duty IV. What has it been like working with him through the years, and Mike, what was it like working with him for the first time?
MIKE TYSON: I was having a ball. Me and the director really couldn't communicate much. Certain people can speak the language and understand the culture, and Donnie explained it to me.
DONNIE YEN: Vice versa. Also, trying to explain some of Mike's commons and some of his input, I convert that to master Yuen Woo Ping. I was acting as a bit of a personal translator/middle person. But to answer your question, my first movie was directed by Yuen Woo Ping. He discovered me 33 years ago. And we haven't worked with each other for twenty-something years. So this is kind of a reunion. For me, even though he's in his 70s, he's like a young kid, he wants to play, he wants to explore. He was so excited to not only work with me again but work with Mike. For him it was like he has some new toys here! (laughs)
MIKE TYSON: He's a good guy. Fun, smart.
RACHEL LEE: I was wondering if you guys were fans of each other?
DONNIE YEN: I'm a big fan of Mike's! I watch every single one of his fights.
RACHEL LEE: What was your first reaction when you met each other?
DONNIE YEN: Just, overwhelmed! Because I recall watching every single one of Mike's fights. At the time, they were on HBO, I would watch them in Hong Kong. The time difference, I had to stay up all night to watch him, but than he'd knock the other guy in two seconds! That's it! (laughs)
MIKE TYSON: I thought it was like 18 years ago, but he said the first Ip Man was only eight years ago. A friend of mine, had told me about the movie, and he gave me the movie, and I watched it a few times, and I watched the second one, and than I told him I'm in part three, and he told me, "Oh man, I'm so happy!"
GREG LYNCH: For Mike, was this your first choreographed fight, and what was that like?
MIKE TYSON: No, I had another fight in Africa, no Algeria, a fight scene in a movie. But this was really a fight scene, good stuff. This was the real deal right here.
LAURA SIRIKULVADHANA: This was the third movie. What makes this movie different, and if you are deciding to say goodbye to the character, how does it feel to say goodbye?
DONNIE YEN: I have to give credit too the director, Wilson Yip. The three installments, are all surrounded by this person, who so happened to be a martial arts grandmaster. But the story talks about a family man, how he deals with problems that we all have. The first one was about survival during the Japanese occupation and how he dealt with the depression. The second one was all about making a living. The third one is more about depth. For me, I feel as an actor, we bring the maturity as we get older, to the character. Between this and the first one, there's more wrinkles and white hair.
RACHEL LEE: What's your favorite thing about acting?
MIKE TYSON: Being who I want to be. Being Frank [Tyson's character in Ip Man 3]. I make more money when I play Mike Tyson, but I hate being Mike Tyson. I just like being someone else.
LAURA SIRIKULVADHANA: Did you guys learn anything from each other? Because you are a champion boxer and you a martial artist, during the scenes did you guys feel like you learned a lot from each other?
DONNIE YEN: I learned a lot. I was trying to get some secret tips from him. (laughs) But we unfortunately did not have enough time because we spent most of it filming.
MIKE TYSON: I was happy being with him. When I always think of the Chinese culture, my ideas always come from the Shaw Brothers movies. I'm African American, they're always oppressed, they're the weak man of the East, this and that. They over come all of these physical and emotional quagmires.
GREG LYNCH: I noticed in all three of the Ip Man films, you are a very gentle character. Is that on purpose?
DONNIE YEN: On purpose. Even though this is a person, from day one, we didn't want to make a documentary. We wanted to create a screen hero that is so different from what we had previously in different films. Usually when you have a hero, the hero saves the world or teaches his particular beliefs and philosophies.
ZACH NIX: Donnie, after the release of Ip Man 2, there were several other adaptations based on Master Yip's life. Did you see any of these, and if you did, did you or Wilson Yip take their success or model into account for Ip Man 3?
DONNIE YEN: Not at all. Of course, we made the first one. The only other different Ip Man movie that I saw, I didn't even finish the film, was the Wong Kar Wai film [The Grandmaster], because I'm a friend of Tony Leung, and I want to see how they bring this together. Every filmmaker has their own vision, how they create the story and what message they promote. From day one, we knew this was our model and this is what we want to convey, and we want to stick with that.
MIKE TYSON: This is the face of Ip Man! That's just what it is. The guy could be a better actor or perform better, but this is Ip Man. This is our champion.
GREG LYNCH: How did you get involved with this one?
MIKE TYSON: They said, "Hey, do you want to be in Ip Man?" and I was like, yeah! (laughs) I called my friend, and he was like, "Get the **** out of here!" I'm in Ip Man!"
LAURA SIRIKULVADHANA: They talk about this being the final film, or is it a potential for a fourth or Bruce Lee starring?
DONNIE YEN: There's a potential for a fourth.
LAURA SIRIKULVADHANA: So you would come back?
DONNIE YEN: I don't know. Maybe. So far, in Asia, we have broken a lot of records. Never say never.
LAURA SIRIKULVADHANA: Congratulations, by the way. It beat Star Wars.
MIKE TYSON: That's why Star Wars called him! If you can't beat him, join him! (laughs)
DONNIE YEN: It's a blessing. I love Star Wars too. I'm very grateful to be in such a major intellectual property film.
ZACH NIX: From Ip Man to Star Wars. (laughs)
DONNIE YEN: Yeah, I can't complain.
GREG LYNCH: Jackie Chan and Jet Li both said you are the best fighter in films.
DONNIE YEN: They're great in their own ways. I don't want to be compared to any body else. We are all different species.
Thanks again to Donnie Yen, Mike Tyson, Well Go USA, Alexandra Drapac and our very own Zach Nix for making this interview happen. Ip Man 3 is currently playing in theaters – and/or own it on Blu-ray and DVD on April 19th!