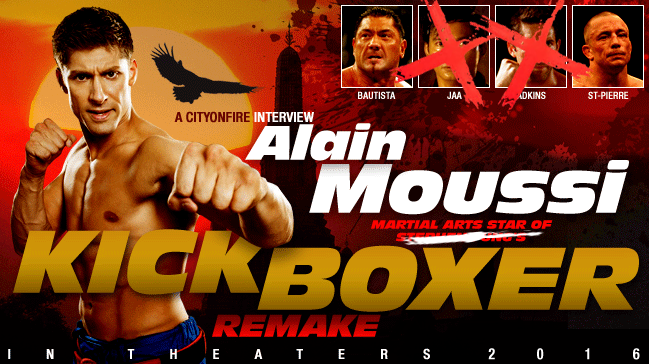 Cityonfire.com presents an interview with Alain Moussi, the rising star of Stephen Fung's upcoming Kickboxer remake!
Moussi, who currently holds a 5th degree Black Belt in NX Jiu-Jitsu, also worked as a stuntman on X-Men: Days of Future Past, Pacific Rim, Brick Mansions and White House Down.
In this exclusive interview, Moussi talks about Kickboxer, future projects (well, sorta!), and his favorite movies and filmmakers of all time. Enjoy!
---
In your own words, who is Alain Moussi?
At the cost of sounding cheesy, I'm many things to different people; a martial artist, a sensei and a family man. I'm a dreamer who believes that with hard work and determination, his dreams can become reality.
We all know you're fan of Jean-Claude Van Damme (particularly Bloodsport and Kickboxer), but what about his other movies?
I've always favored Bloodsport and Kickboxer since those are the films that inspired me to start training in martial arts. I also like many other Van Damme titles such as Lionheart, Hard Target, Time Cop and Maximum Risk. In my opinion Van Damme isn't your typical "tough guy". His characters often show vulnerability which makes him relatable. As a martial arts fan, I enjoy all of his movies. They're always fun and entertaining! I think Van Damme's most recent titles show his versatility as an actor. He's played the hero and the villain crossing over into many genres. I am looking to forward to seeing Pound of Flesh coming out in 2015.
Give us a list of your top 5 martial arts films of all time.
So hard to pick only 5! Here are 5 of my favorites:
Enter the Dragon: My father introduced me to Bruce Lee films when I started training in Jiu-Jitsu. I became an instant fan. I loved Bruce Lee's intensity and charisma.
Kickboxer: As a kid I was very impressed by JC's kicks and flexibility. He was so clean in his movements. I could definitely see myself becoming just like him.
Best of the Best: Pop it Tommy pop it! Loved it! A beautiful story and display of the martial arts spirit.
Rumble in the Bronx: RITB was the first Jackie Chan movie I watched and I couldn't believe what I was seeing! I loved Jackie's use of the environment and his ability to throw comedy within his fights.
Ong Bak: Tony Jaa's athleticism was second to none but what I loved most was that the fights were so gritty and raw.
If you can work with any star, who would that be?
If I had to pick one it would definitely be Dwayne "The Rock" Johnson. I've been a fan of The Rock since he started in the WWE. He's smart, funny and charismatic! To me The Rock is the ultimate blend of "old school" and "new school" action hero.
If you can work with any filmmaker, who would you choose?
I would love to work with Michael Bay. He's the ultimate action movie director!
With all the high octane action films of recent years (The Raid 2, Tony Jaa, Donnie Yen, etc.), there has definitely been a new "standard" set. Do you think your Kickboxer remake will meet this standard?
The producers and director Stephen Fung are martial arts fans. They want Kickboxer to be a hard hitting movie. Tony Jaa and Scott Adkins are two of the biggest martial arts superstars in today's film industry. Georges St-Pierre and Dave Bautista are both champions in their respective fields and the fight choreographer [Larnell Stovall] is one of the best in the business! Kickboxer has all the makings to be an awesome martial arts film!
In your opinion, is there such thing as "too much violence" in movies?
I think there is a difference between action and violence. A certain amount of violence is acceptable in action as long as it is within context. Gratuitous violence used for shock value only can be "too much violence".
I know you're not the biggest fan of remakes, but if you were contracted to appear in another remake of your choice, what movie would you choose?
I would choose Tango & Cash (opposite The Rock)! I love action comedies and I think it would be a fun story to revisit!
If we looked at your personal DVD or Blu-ray collection, name a few movies we would find?
You would find The Expendables, Zoolander, Legends of the Fall, Unleashed, Gladiator, Training Day, Blade, The Raid, Wedding Crashers among many others…
Do you have any possible projects in the works after Kickboxer is completed?
Yes…
No details?
Haha! Have to keep some mystery don't I !?
Have you seen any of Stephen Fung's directorial work?
I have seen Tai Chi Hero. I liked the story, comedy, the action and the camera work. I thought it was a cool movie. I've talked to Stephen about his vision for Kickboxer and it's great. I'm looking forward to work with him.
If Stallone called you up to appear in Expendables 4, and he gave you the choice of being a good guy or bad guy, which would you choose?
I would choose the good guy since I love playing the hero!
Thanks again to Alain Moussi, who took the time to answer these questions! The Kickboxer remake starts shooting in the fall. Look for it in theaters in 2015!
---
NOTE FROM THE EDITOR:
Much has changed since we first posted this interview back in August 20, 2014. During pre-production, it was announced that Tony Jaa and Scott Adkins – as well as Hong Kong director Stephen Fung – were no longer part of the film. Instead, filmmaker John Stockwell (
In the Blood
), Jean-Claude Van Damme (star of the original
Kickboxer
) and Darren Shahlavi (
Ip Man 2
) were among the new names added to the movie. For the most up-to-date news regarding the 
Kickboxer
reboot,
click here
.