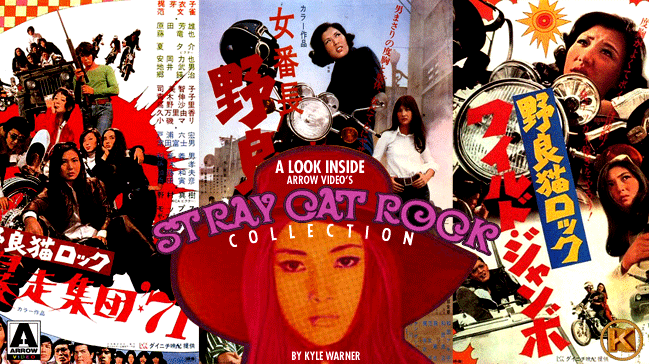 After Roger Corman's 1966 outlaw biker film The Wild Angels became a surprise hit in Japan, Japanese studios were quick to cash in and make similar films. One such popular film was Toei's Delinquent Boss from 1968. The Nikkatsu film studio saw Stray Cat Rock: Delinquent Girl Boss as their way to jump in and compete with Toei's product. Unlike most films with copy-cat origins, Delinquent Girl Boss successfully started a series that ran for five films (spread out over just two years) and is fondly remembered as one of the country's best film series of the 1970s.

It's a strange series. Directors Yasuharu Hasebe (Retaliation) and Toshiya Fujita (Lady Snowblood) split the series, with each director giving their films a particular style. Sometimes a Stray Cat Rock film is a gritty crime drama, other times it's a youth comedy. One film deals with the subject of racism, another film has a dude dying from sexual excitement while using a jackhammer. The series used many of the same actors from film to film (including Meiko Kaji, Tatsuya Fuji, Eiji Go, and Rikiya Yasuoka), but the actors never played the same characters. And though the films are often funny and wildly different, they all invariably end in shocking, downbeat fashion. The Stray Cat Rock series is part Nikkatsu action movie, part Easy Rider, part counterculture comedy, and 100% 1970s.

For the longest time, only the third film of the series, Sex Hunter, was available on DVD in the US. That's now changed as the complete series has received a Blu-ray/DVD release from Arrow Video. Over the past month, I've had a chance to go through the series to watch and review each film.
---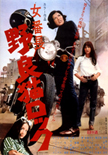 Delinquent Girl Boss
(1970)
In Yasuharu Hasebe's Delinquent Girl Boss, Nikkatsu basically took a bit of everything that was working for them at the time and threw it all together. We get a yakuza action movie plot infused with rock & roll, 70s counterculture, violent youth, girl power, and a dash of 'pinky violence' to top it all off. An entertaining mix. Read my full review.
---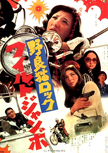 Wild Jumbo
(1970)
After the success of Delinquent Girl Boss, a follow-up film was rushed into production and released just three months later. Toshiya Fujita's Stray Cat Rock: Wild Jumbo is a messier, cheaper looking film than its predecessor, but somehow that doesn't seem to matter. While the first film played with audience expectations and genre clichés, this movie just wants to have fun. Read my full review.
---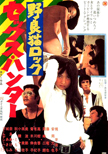 Sex Hunter (1970)
Yasuharu Hasebe returns to the series he helped create after Toshiya Fujita stepped in for him on film 2. Under Hasebe's direction, Sex Hunter leaves Wild Jumbo's beaches behind and returns to the bloody city streets. Sex Hunter is not only the most well-known entry of the series but it's also probably the best. Sex Hunter tackles political themes and racism in 1970s Japan, making for a darker, more thought-provoking film. Read my full review.
---
Machine Animal
(1970)
Hasebe's final film in the series borrows moments and themes from earlier Stray Cat Rock films, feeling like a blend of Delinquent Girl Boss and Sex Hunter. The least original of the bunch, Machine Animal is lacking something that keeps it from fully coming to life. Still, there are enough interesting scenes and entertaining performances to make it worthwhile for fans. Read my full review.
---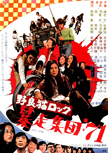 Beat '71
(1971)
Director Toshiya Fujita returns to the Stray Cat Rock series for the fifth and final installment, Beat '71. This may not be the most polished film in the series but it is one of the funniest. In Stray Cat Rock: Wild Jumbo, Fujita broke away from the delinquent girl gang stuff that the series is generally known for, and he moves even further away from that sort of movie with Beat '71. The final Stray Cat Rock film isn't about cool, good-looking young people hanging out in clubs and getting into altercations with their rivals, instead it's about homeless hippies and a society that doesn't see a use for them. It's a fun, weird movie. Read my full review.
---
About Arrow Video's release:
The complete series has been released in a 5 disc DVD/Blu-ray set from Arrow Video. The set contains 2 Blu-rays and 3 DVDs. I did not have the DVD versions of the film to review, but as far as the Blu-ray presentation is concerned, the five films are packed onto the 2 Blu-ray discs.
Because the films are short and special features are minimal, I don't think there are any compression issues. The picture quality of the films is good but not great, thanks to prints that do not appear to be in pristine condition. Some of the picture quality's faults are also likely attributed to the filming techniques used, as dark scenes have a tendency to look very dark. Still, the films look good in high-definition, and Sex Hunter is a noticeable upgrade over the previous DVD release. I think Beat '71 looks the best out of the bunch.

For special features we have trailers, a booklet containing writing on the films by Jasper Sharp, and a trio of 30 minute interviews with subjects Yasuharu Hasebe, Yoshio Harada, and Tatsuya Fuji. The interviews appear to have been conducted in 2006, before we sadly lost both Hasebe and Harada. I found the interviews to be both informative and entertaining.

Hasebe's memory of shooting the series has gotten a bit fuzzy over the years but he shares a few interesting stories about the origin of the series, casting the actors, and questions about Sex Hunter's strange ending. Yoshio Harada talks about his transition for a stage actor to film actor at a time when the Japanese film industry was starting to fall apart. Harada shares stories about Tatsuya Fuji and Meiko Kaji, saying that they were more than just co-stars, they were his teachers as he started work in film. Tatsuya Fuji has the sharpest recollection of what filming the series was like and shares many humorous stories about the guerilla-style filmmaking. Fuji it seems was good friends with Hasebe, but he couldn't quite figure out what to make of Stray Cat Rock's other director Toshiya Fujita.
Overall it's a great collection. I do wish there were more special features, but the interviews are good. This set is a Limited Edition of only 3,000 copies. So, if you're interested in picking up a copy, then you best not delay.

The Verdict:
Stray Cat Rock is crazy, violent, and frequently funny. I'm stumped at trying to pick out a similar series. I was happy to finally get a chance to see the entire series after having only seen Sex Hunter before. My opinion is that Sex Hunter is the best (and Machine Animal is my least favorite), but each entry has its own special something to offer, so everybody may have their own differing opinions on best and worst. It's a strong series, one that allowed two very different filmmakers to go all-out and create some memorable films about the youth of the 70s. If you're a fan of Japanese cinema, you should definitely give Stray Cat Rock a look.
Blu-ray screen shots courtesy of doblu.com. Please take a moment to read their coverage of Arrow Video's Stray Cat Rock Collection by clicking here.